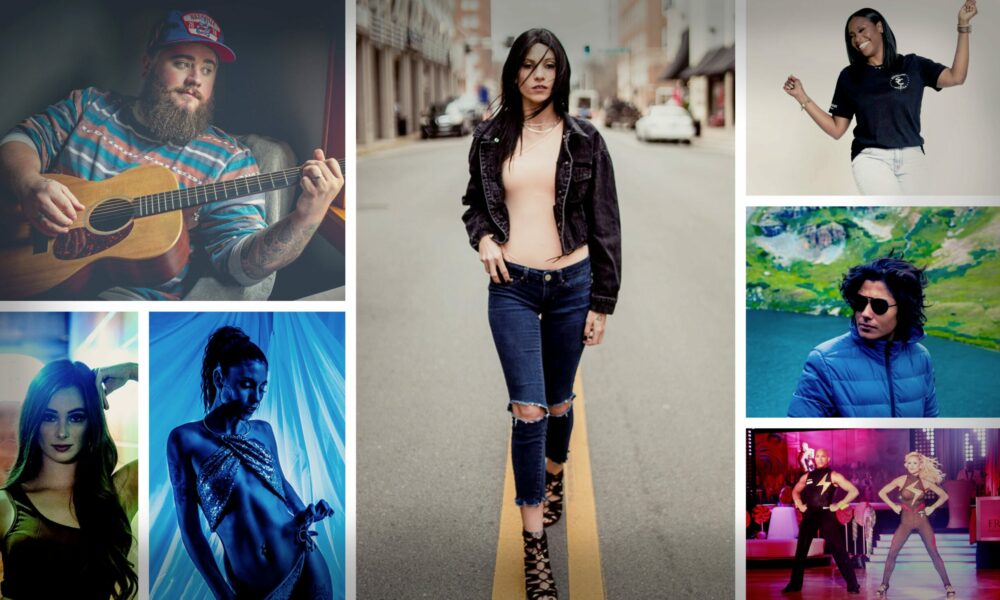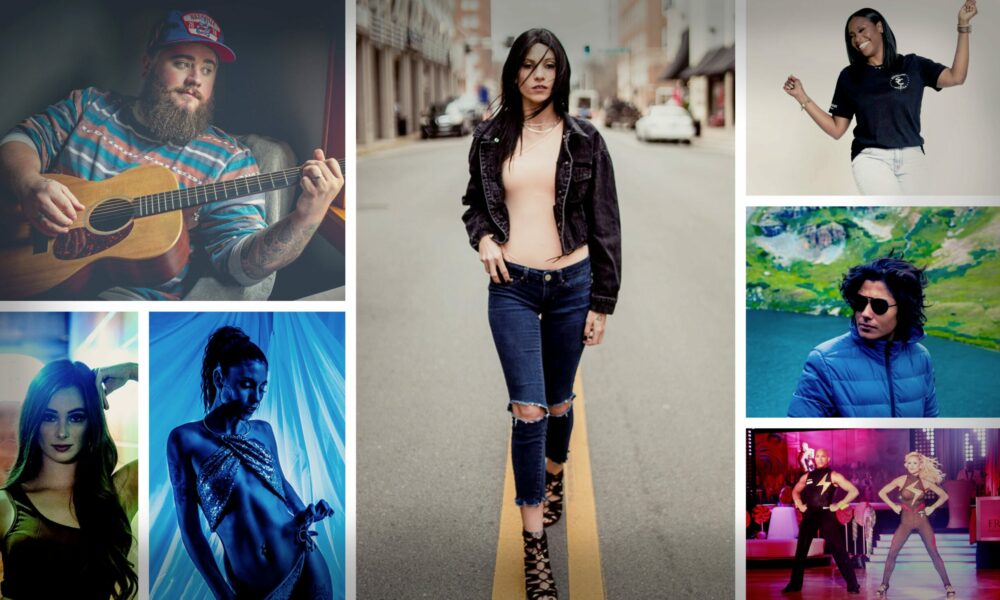 The heart of our mission is to find the amazing souls that breathe life into our communities. In the recent weeks, we've had the privilege to connect with some incredible artists, creatives, entrepreneurs and rabble rousers and we can't begin to express how impressed we are with the incredible group below. Check out our favorite stories from across the Voyage family.
Alice Sensenbrenner

My love for making jewelry started when I was 7. My Nana gifted me one of those kid's jewelry-making kits and from there all I asked for were beads and stringing materials. Flash forward to 16-year-old Alice, I had just graduated high school early and I wasn't able to go to college yet. I decided if I couldn't work towards a career by going to college I might as well turn my jewelry-making hobby into a business. At 18, I made the move from my small town in South Georgia to Clarksville, Tennessee. That was easily the best decision I've ever made. Not only did moving out of my small hometown help me grow as a person, it also allowed me to meet more like-minded people and expand my business. I messaged tons of boutiques and stores to try to get my jewelry in there. Some responded and purchased wholesale, some allowed me to put my jewelry in there on consignment and a few didn't respond. I researched markets and craft fairs around me and set up at those. Read more>>
Tikicee Russell

My story starts in Detroit, Mi. I grew up in an underprivileged neighborhood but like most made the best out of the situation. I can remember having a love for fashion and cosmetology as early as 5. As the years went by, I continued to develop in fashion Illustration, and design. After graduating from Samuel C. Mumford high school (Detroit, MI) 1997. I attended Tennessee State University majoring in Family and Consumer Sciences with a concentration in Fashion Design, I attended TSU for 2 years then finished up at Wayne State University (Detroit, MI) with a Bachelor of Science in Fashion Merchandising. After college, I worked various retail management positions (Merchandiser, Marketing Coordinator, etc.). I moved to Nashville, TN in 2009 ready for a change of scenery and the opportunity to better life for my daughter and I. In 2020 I started creating shirts and hoodies for family and friends as a side hustle. When Covid-19 hit hard and like many others, I was laid off. I had to push my side hustle to ensure ends were met. Read more>>
Summer Dozier

I decided I wanted to do something that made me happy and find me a hobby to enjoy. I have been insecure about myself for a long time due to past experiences, but modeling has help encourage me that we are all beautiful in our own ways.  Read more>>
Dustin Bowen

I am a Tennessee native-born in Nashville and raised in a small town in West Tennessee. I grew up around the working class; a group of individuals who worked to make ends meet but for me, small-town living was not enough.  I found meaning in exploring the world through the lens of creativity; music, art & cars were the primary outlets that drove me to dream big and never settle.  At 21, I left college and pursued a career as a touring musician. It was there that I found myself engaging in conversation about the boots I was wearing rather than the music I was playing.  As a musician, what you wore was just as important as how you played. For me, the perfect pair of boots made the best musician better. But the current state of boot wear wasn't enough.  I started designing boots with different, creative styles that took the history and tradition of boot making and brought it into the present.  Read more>>
Reid Horn

Because I have always valued community, I grew up knowing I was going to be in the helping profession in some capacity. My family was a big part of the community when I was growing up. My community wasn't as big as New York City, Los Angeles, or even Nashville. It was just a small town in Indiana, and while no one in my family were politicians, pastors, or public figures they were connected with the community in a big way. My grandmother, Mary-Lou owned and operated a local family-run diner where everyone I knew went. It was called Mary Lou's Home Plate. My grandmother was an inspiration to me and she taught me a lot about community in my time as a young teenager working alongside her. Because she was a huge Cubs fan the restaurant was decorated from the ceiling to the floor with Cubs memorabilia. One year she was able to take our whole family to a Cubs game in Chicago. I remember her renting a Grey Hound bus for the family. Although I have a big family there ended up being extra seats available, so she called people in the community to see if they wanted to join us. The bus was filled!. Read more>>
AJ Gatio

I guess it all started when I got a guitar for Christmas in middle school! I took about a months' worth of lessons and bailed because my teacher made it close to no fun and that guitar just sat around as I learned how to noodle and slowly learn chords throughout high school. I started writing songs in college when me and my high school girlfriend broke up (tragic, right?) I played football in college and didn't have a whole lot of time for music but I kept dabbling when I had the time. I played all of 3 shows (if you even want to call them shows) before moving to Nashville for the summer after I graduated from college in 2015 (shout out Miami University for the paper) and I've been living in Nashville ever since!. Read more>>
Tamara Gaudin

After graduating college I moved to New York City and began my start in the world of fashion. I have worked in several spaces of the industry but found my "forever home" in the world of styling. I have styled it all from film, print, commercial, runway, and personal. And personal styling is where I have landed. Although I do pick up other freelance jobs from time to time, personal styling is what I do on a daily basis. I started working with a personal stylist which is where I began my journey into this specialized field. And after working with her for a time I ventured out on my own and started my own business. I work with clients all over the country.  Read more>>
Jeff Borton

My story starts being raised in Michigan and then moving to South Florida for many years. I love the diversity of culture, languages, and foods that exist in symbiosis there. I've travelled to many countries and met people from all walks of life which opened my eyes to the needs around me and around the globe.  Within this framework, I've worked with students for over 20 years in a church setting. Our belief is that the church should serve the city and meet the needs of the community. It has been a priority to teach this to students and kids to help them realize that "loving our neighbor" like Jesus commanded isn't just when it is planned on the church calendar, but a lifestyle we embrace.  My role has changed in the past year, but my purpose has not. We serve our community locally, plant churches nationally, and have several global efforts that Long Hollow, my church, supports. Our prayer is that Long Hollow will display the love Jesus has for our community and meet needs both spiritually and physically. Read more>>
Travis Gordon

I used to own Restaurants and Bars in my home state of Kentucky, one of the bars we had called Devassa would have DJ's and bands nightly and as with any bar or restaurant, it's hard to pack it out every single night so on the slower nights I started DJing to save us some money. Music has always been a big part of my life, and I was blessed that I had parents that exposed me to all kinds of different genres. So, when I started DJing, I became obsessed with it and wanted to get good and get respect from other DJs in the area. I worked as hard at it as I did owning my restaurants and started to pick up gigs outside my own establishment. My big break is when my good friend Eric Banks from MTV put me on with the owner of 2 major bars/ clubs in South Padre Island, which resulted in getting to DJ Spring Break for huge crowds for 25 straight days. From there, I met two great friends in DJ Silver and DJ Slim McGraw (formerly DJ Dirty). Those guys took me under their wing and taught me about the business side of things, how to carry yourself, along with countless amounts of music and advice, and most importantly helping me obtain some bigger gigs that jolted my career. Read more>>
The Views

In 2015 Allen Witzel returned home from Ft. Hood TX where he was stationed in the Army. After his discharge and return home he struggled in finding what he wanted to do next, at that time Allen approached Leslie Reardon (mother) Michael Reardon (step-father), and Ashley O'Bryant (sister) with this crazy idea to start a wedding venue. After discussing all of the options and ideas the decision was made and the search for the perfect property began. It took two years of searching and we found our perfect spot, situated just above Red Clay state park the Views at Sunset Ridge is a twenty thousand square foot building on 200 beautiful acres and surrounded by beautiful mountain views. Allen Witzel attended culinary school and trained with wedding caterers to become our Executive Chef, Ashley trained with the bridal society to become a wedding planner and designer. Michael Reardon has used his years of experience in the IT field to maintain and upgrade the venue sound and IT equipment, and finally, Leslie Reardon worked for years in her church as a wedding and event planner she has been master certified by the Bridal Society and trained with David Tuterra to become a top-rated wedding planner and designer.  Read more>>
Seth Manuel

It all started about 4 years ago. I upgraded my wife's camera and got the hand-me-down. After I got the camera, I started taking some photos here and there and really fell in love with photography. I knew from that moment on that's what I want to do and been chasing that dream still to this day. I used to work as a heavy equipment operator for just about 10yrs and during that time I started shooting trucks at the local fairs and truck shows. Then began to shoot some cars at cars and coffee which lead to traveling to shoot clients cars. So, you can say forsake I started in automotive photography that led me into portraits. A good friend of my wife and I from Florida was the first model I got to shoot with at Daytona truck meet and from striking up a friendship led to numerous shoots with her friends all from around the country. I was still working in construction helping my father and brother anywhere from pouring concrete to foundations to building houses until a good friend of mine, I met at one of those truck events, is into making videos on YouTube and over the course of 4yrs shooting some of his vehicles and traveling to help film.  Read more>>
Melissa Ann

I've been singing for as long as I can remember. With the help of my grandfather, I fell in love with the music of country legends, such as Johnny Cash, Loretta Lynn, Dolly Parton and so many more. As I grew up, my love for singing grew as well when I became involved in school choirs and musicals. Fast forward to 2017: I was encouraged by family and friends to start performing locally in New Jersey and Pennsylvania. Ever since, I have had so many incredible opportunities to perform along the east coast, including a performance at an event hosted by "The Voice" in New York City. I have also met so many incredible fans, friends, musicians, and songwriters along the way that helped me grow into the performer I am today. I'm very excited to continue this journey and I can't wait to see what the new year has in store for me!. Read more>>
RJ Jacobs

I started writing when I was in college—mainly short stories and some poems, but I managed two longer pieces I was proud of at the time but were honestly pretty awful. I'd heard an English professor say it was important to keep the pencil moving and even though I had no idea how to construct a story, I enjoyed the creative process and nurtured a habit I planned to return to later on. That "later on" turned out to be just before I turned forty when I realized that if I was going to get serious about writing, the time was then. So, I invested in a laptop and got to work. My first novel, And Then You Were Gone, was published in 2019, and the follow-up, Somewhere in the Dark, came out in 2020. My next novel, Always the First to Die, will be released this fall.  Read more>>
Big Bruno

Music has always been in my life. My father was a music director in the churches that I grew up in while my mother always had the radio on listening to classics and introducing me to various genres. I started making beats back in 2011 for fun and to rap on. I always had a love for the hip-hop culture/music, but could never see myself rapping in a serious way. I did however see myself becoming a producer and taking that seriously. After a couple of kids in high school hopped on one of my beats, I decided to dabble into producing the records as well. Fast forward 11 years, and over 10,000 hours, the best music is yet to come.  Read more>>
Bryan Boliver

I started writing music as a teenager and was in several bands and worship teams. In 2010 I got my first Apple computer which had Garage Band, and that's where I started producing music and have been over the last 12 years. I was working as the Creative Arts Pastor at my Church for almost 7 years, and during this time received my B.S. in Business and my Berean Pastoral Certificate. I was writing songs for the local church and began taking regular trips to Nashville for writing retreats. During my first trip in 2017, I realized for the first time that there was real possibility and opportunity in the music industry.  I came back from that trip and started writing, recording, and producing songs for my own artist releases. That led to artists reaching out to have me produce their projects. Soon we felt God's calling and my wife Suzy and I started our company Bryan Boliver Music in 2018 where we help Christian Indie Artists and Songwriters make music and get their songs heard. We do this through production, songwriting, coaching, mixing, mastering, our production course, our online community, and our in-person songwriting retreats. Any area an artist or songwriter is looking to grow in, we are here to help.  Read more>>
Jessi Mitchell

JRPR Digital started while I was working at a radio station in South Florida in 2014. I was already handling social media for the stations but was also the main social media account holder of one of the morning shows. During one of our many events, a lady approached me asking if I could handle her social media and grow her accounts. At first, I said, no because I thought it would be wrong to work for her and for the radio station at the same time. But then my boss, later on, said freelancing is not a bad idea and I could make extra cash on the side. So that is when JRPR was born and that lady is still my client to this day. I am so grateful I started my own business. I represent a couple clients from South Florida and now a few here in Nashville! My goal is to keep growing JRPR Digital and meet more people!. Read more>>
Shane Shown

Honestly, my very first entrepreneurial venture was in First Grade. My first taste of creating nothing and turning it into something was drawing Pokémon bookmark cards and selling them to fellow students for 99cents.  My first time learning how to sell and transfer skills over to others was in Fourth Grade where I learned that I could go to the dollar store, buy a box of candy canes, and sell them for $1 each. Every $1 now turned into 11 additional opportunities because each box came with 12 candy canes.  Fast forward a decade, I joined an internship program called College Works Painting where I learned how to run my own residential house painting business by knocking on doors. I went from nothing but my heads to a full-blown production team in under 4 months. This taught me that I could simply knock in random neighborhoods with zero dollars to my name, no branding, no knowledge of the industry and build a successful six-figure business by pure effort.  Read more>>
James Brown

I originally got started with art at the age of five drawing with my mother. Then taking it more seriously in high school with painting classes, by college realizing that this might be my calling. Read more>>
Graham Bunn

I grew up in North Carolina. My education started while working on old cars with my dad in the garage listening to Willie Nelson and Waylon Jennings. This gave me an appreciation for so many things that have served me well in life, family values, the benefit of a good day's work, time with my father to name a few. All the while listening to some of the GOATS of country music in my opinion.  Read more>>
Adam Silverman

In my former life, I was a world-touring drummer with a side gig doing website hosting. Today I'm a small business entrepreneur, digital marketing strategist, web developer, and horse farmer (you read that right), who drums on the side. Life is weird and wonderful that way.  My first business, Silverbox Development, partnered with branding and marketing agencies in the Nashville area. They'd sell sites, I'd build them. Long story short, I got tired of building websites that looked great but had no strategy or purpose. I was making plenty of money for myself and my agency partners, but we weren't really doing anything to help the clients make money. As a small business owner, myself, that didn't sit right.  I wanted to help clients do more than look good online. I wanted to grow their digital footprints so they could grow and scale their companies. Turns out, it's hard to find that kind of top-to-bottom service from a traditional agency. They'll make you look pretty, but they can't help you grow your bottom line. So, I started a company that does both.  Read more>>
Robert Skipper

Late in 2020, I started setting up a home altar. In a Catholic Church the altar is the center point of our attention, where the Eucharist is brought to us, but because of the importance of a focal point such as the altar, some Catholics such as I have brought the idea of an altar into our prayer space at home. We have no special hope for consecrating the Eucharist, as we have no power to do so, but we wish to create a beautiful space in which to pray at home. For me, I participate in the Church's long tradition of praying the Psalms at my home altar.  Purchasing candles for the home altar turned out to be an investment, and my mind quickly turned to figuring out how I could make candles for my home altar rather than purchase them all the time. I noticed at the same time that my Pastor at our church would have to go through a lot of candles, but I never saw what was done with them when they were spent. I inquired and found out that they kept them and sometimes the sacristan would reuse them, but certainly not all of them. From there I began taking the candle stubs home and taught myself how to melt them down and pour them anew into candle molds. Soon I was supplying my own, fresh, church-style candles. It was a slow process and I made just enough for me.  Read more>>
Britt Dignan

I was born in the South Suburbs of Chicago, IL. My Father a minister and my mother an English major parenting 4 boys, me as the youngest. Music played a big part early on in my life, stemming from my Father who played rock and roll music before finding God and deciding to walk that path while switching gears and writing/recording many of his own Christian songs. Being raised in the church I was surrounded by music and my Father noticed rather quickly that I shared the same passion he had for it so he encouraged it every step of the way. My earliest memory of playing an instrument was when my father told me to sit with guitar on the ground of my childhood home and lightly tap the strings of his guitar with a spoon to hear the sound each one made. My musical journey began with drums, giving me a keen sense of timing and rhythm that would stay with me my whole life. From there on moved on to Alto, Tener, and Baritone sax throughout junior high, even being part of the school's jazz band. Early high school I played bass in a few punk bands before finally settling into acoustic guitar mainly sometime my sophomore year and transitioned into the singer-songwriter realm and fell into the jam band world. Phish, Dave Matthews Band & The Grateful Dead became the soundtrack to my closing teen years. The end of my high school experience was somewhat of a dark yet self-exploratory time in my life. Read more>>
Sarah Taylor

As cliché as this might sound, I'm just a girl from a small town in Texas. But it wasn't just any small town for me. My mother's side of the family owns a fairly large farm in Vernon, Tx and I had the privilege of growing up on it. I couldn't be more grateful for this experience because, at a young age, I learned the value of hard work and was fortunate enough to have sisters and cousins who were all super close and taught me the value of being kind and honest. A lot can be learned from observing a farmer, like how when you plant seeds, you don't see the rewards of your work right away. And in fact, you continue to work for months on end tending to your crops, watering them, preventing insects and animals from harming them, getting little sleep, and simply having faith that what you have sowed is growing under the surface even though you can't see the evidence yet. (Living by faith, not by sight) I didn't realize it then, but this lesson has gotten me through and given me strength in times of my own personal trials. Read more>>
Jessica Dukes

You know, my story, and Instagram page as you would have it started by accident truly. I have always loved people, telling stories and knowing stories, encouraging and motivating BUT when I started @jessicadukesdaily (@dailyketosis at the time) it was solely to keep myself accountable to weightloss goals, while beginning and learning about the keto diet.  I have PCOS and struggled with infertility and was looking for help in aiding both of those things while losing weight so I had decided on a whim just to post everything I ate. I was in my late thirties, married and childless because of infertility BUT also a full-time nanny and needed an outlet that wasn't children specific for me to fuel my energy, so @dailyketosis was born.  What happened was quickly, people began following me! This was fiveish years ago, back in the day when influencer and "building a page" wasn't a thing (at least to me!) so it was cool, as I began to share my story, other ladies began sharing their story as well. What I knew but was so good to hear was we are all alike more than different, people are kind, and having a community no matter where that community gathers, in person or online, makes you feel so much less alone in whatever struggles you are going through. Read more>>
Clyde C. Harris

I started out as a Ballroom Dance Instructor for National Dance Clubs in 2001. After a few years, I became one of the top Teachers and Salesman in the country. I traveled to Europe, South America, and even Cuba with my clients. In 2008 I felt that I needed more growth and also to share my business development knowledge with a company called Dance With Me USA. This company was started by Valentin and Maksim Chmerkovskiy from Dancing With the Stars. The company had only two locations and were looking to expand. I helped them create a system that helped them build now more than 17 locations across the globe. I returned to Tennessee in 2013 to dance with Summer Black Elkin and started winning championships the first year we competed together. We went on to win World, National, and Continental championships. In 2017 we were invited to represent the USA at the British Exhibition Championships as a finalist in Blackpool, England. We retired in 2018 on a high and I went on to pursue work in TV and Film landing my first commercial as a hand model for Hardee's. I began working on the sets of various TV shows and Movies in Nashville and in GA. I started working Background, Production Assistant, Featured Acting roles, and roles as a dancer.  Read more>>
Jillian Jensen

In 2012 I made my "television debut" (so to speak) on season 2 of The X Factor where I was blessed to sing alongside some other incredible talents from all over the country and landed myself in the Top 24. Oddly enough, my audition resurfaced the internet back in April 2020 and has gathered 236 million views. Which is crazy to think that 9 years later people are still watching little 19-year-old me. Our judges that season were: Britney Spears, Demi Lovato, LA Reid, and Simon Cowell.  After X Factor, I found myself still wanting another shot and proceeded to compete on American Idol where I got to the Top 15 women in the competition. The song that got me into my final phase before being cut the following week was an original song entitled "In Your Arms".  Both experiences were unique in their own right and showed different parts of myself as a human and as an artist.  Read more>>
Johanna Haneda

Johanna Yukiko Haneda  Born in Tokyo Japan. Spent 2 years in San Francisco CA in her childhood.  Debut as a recording artist in 1988 from Sony Records.  Worked with an all-star creative team in Japan and in the US, including producer David Foster, Paul Anka, and more.  In 2011, after the earthquake hit Japan, she decided to relocate to the US to pursue her career in the international field.  Million Breath is her own basic method for personal wellbeing and performances technique focusing on self-discovery through her own breath and voice.  As known as Yukiko Haneda. Read more>>
Rachel Horter

I started singing from a very young age, just for fun. As I entered later grade school and middle school, I performed in school talent shows and started singing at church on the weekends. Right before I started high school, my family and I moved to northern Indiana and I auditioned for show choir going into freshman year. I wasn't sure what to expect and hadn't heard much about it, but I loved to sing and also loved performing on my dance team, and mixing the two sounded really interesting. Plus, the girls wore sparkly costumes so I was all in! It changed my life and made me fall in love with performing.  However, deep down I didn't think I could do this as a career and college seemed like the normal and more logical route to take. My senior year, I was accepted into Purdue University and was awaiting move-in day in August. Also during that time, I was making frequent trips to Nashville- meeting and working with new people and still wanting to possibly pursue a music career. My plan was to attend school during the week, Nashville on the weekends so I would be doing the college thing while also trying for my ultimate dream.  Read more>>
Tanya Key Adams

I started my real estate career in 2010 just as we were starting to come out of the recession. I have always loved looking at homes and envisioning what they could be transformed into. There is always a story and something charming about each one.  Having lived in Nashville most of my life it has been exciting to see our great city grow into what it all has to offer today. Read more>>
Raivon B.

I started my online boutique, Raise The Bar Apparel Co., November of 2020. I was working from home as a medical records specialist in the middle of the coronavirus pandemic and I was unhappy with my workload and lack of support from my supervisors. I had already aspired to be my own boss since I was a child and with my current occupation, I was making enough money to begin saving toward that dream. I hadn't saved much yet, but one morning I woke up and said today is the day that I just start. Randomly lol. I began searching for vendors, manufacturers, ordering samples, and testing them. I even began researching how to create my own website using Shopify and how to make logos; and before I knew it, I was up and running ready to sell. Shortly after, I lost my job abruptly and I had already used all of my savings to start up my business, so I panicked. Despite the unforeseen and unfortunate circumstances, I was going through, I knew I had all eyes on me from my peers, family, and potential future customers. I continued to take photos of me from my iPhone in my apparel and market them through drops that excited my friends on Instagram.  Read more>>
Laura Martin

I'm a wine lover from California! With a passion for charcuterie and horses and thought why not put all these passions together! We built a beautiful horse barn shortly after moving and that's my tasting room. People from all over get to enjoy local wine and charcuterie all while accompanied by our beautiful horses. All tastings come with carrots to feed and interact with the horses. I'm so blessed to share this wonderful experience!. Read more>>
Teresa Kurowski

I have always had Allergies even though being born and raised in Tennessee, one day it was so bad I could not talk. Fearing I had the flu I went to a walk-in clinic and was told it was just allergies to take over counter medicine and nasal sprays. Being more of a holistic person I decided to try Elderberry syrup, I went to Wholefoods figuring they had the best, it worked after two days but tasted nasty and was very expensive. I decided to play with the recipe myself and the very first batch my husband walked in the kitchen and laid his hands on the pot and began to Pray. I started giving it to friends and soon they started telling friends, within about a week I was getting my business license and Insurance. I have been a realtor for 8 years and I am truly blessed that I can handle both however when covid hit our elderberry was a big name. We were asked to be in a few small stores, and I was taking a class at UT on better canning practice to move into commercial kitchen. We started getting our slogan Made and Prayed with Love Trademarked.  Read more>>
Kaylyn Lovin

I'm a world traveler and I love to move all over the U.S! As a child, I was always fairly different, I didn't enjoy social interaction as much as my peers and was always kind of quiet and kept to myself. I always had to biggest imagination, I loved art and food and culture and slowly growing into adulthood I found so much passion for all of these things. My father was gone with the military a lot and he would always send me postcards and pictures from wherever he was in the world and I always told myself someday I'll do those things! I wanted to experience the world and I knew as soon as I turned 18 that's exactly what I would do.  Read more>>
Maćeo Ali
Kultral Recordz was started during my time overseas while on deployment. I had a business plan initial back in 2016, but I did not have the seed money to fund my business. I worked with various small business owners and musicians to gradually build my label overtime. I used the money I got from my deployment to start my company and had five artist on my roster.  Continually, the success of my company was not immediate as I took a loss and then COVID-19 happened. I realized that my artist did not have enough traction to bring success, so I introduced my K-POD headphones that have accumulated over 15,000 in total revenue. I started to bring in other products to increase sales and started adding artist to my roster that were established.  My success has led to nominated artist and a tv show that will be on Amazon prime that was filmed in Nashville, TN. I have over 100,000 views on social media platforms and my artist have over 30,000 streams on Spotify. My business is still growing and is gaining more traction each day.  Read more>>
Ashleigh Haney

Throughout my high school and college experience, I always had the goal of being my own boss and starting my own company. I wasn't so sure what that would look like, so I continued to grow my education in the business career path. Post graduating, a friend of mine entrusted me with coordinating her wedding day as I had a niche in event planning in college and have a type-A personality. I had no idea I would love coordinating her big day as much as I did! From meeting and working with all the vendors to bringing the bride's vision to life, I learned that this opened a door for me to explore a passion of mine.  And that brings us to January 1 of 2021, the launch of ALIGN. Fast forward to today, I have coordinated a total of 14 weddings and am booked out for 2022. With the support of my friends and family, all of the brides and grooms who have trusted me with their big day, and all of the learning opportunities I have had, I am happy to say I get to be a part of the process of so many more special days. Read more>>
Courtney Maccarone

Born in NJ, my family and I moved to TN about 6 years ago. I immediately started my Aesthetics journey at the Aveda Institute in Cool Springs. After graduating, my passion for this industry continued to grow and I worked hard to perfect my craft.  I found the true start to my career began as the manager at Waxing the City, where I learned many skills that allowed me to be the businesswoman I am today. After going on maternity leave and that location, unfortunately, closing due to the shock of COVID-19, I spent 2020 and the majority of 2021 looking to fulfill my dream of owning my own business.  I am blessed to be officially open and accepting new clients along with clients that have followed me from WTC. I am excited for what this new chapter brings and am eager to continue to perfect my craft!. Read more>>
Melanie Layden

Growing up in West Tennessee, I was always fascinated by the weather. Particularly, severe weather and tornadoes. They were common where I'm from and I knew from a young age that I wanted to be a meteorologist. However, it wasn't "the norm" to see a woman in my line of work. In the '90s, the meteorologist you would see on TV was (typically) a man and kindly referred to as a "weatherman". I ended up getting my Bachelor's degree from Ole Miss in Journalism and then later went on to get my Masters from Mississippi State in Broadcast Meteorology. My first TV job was in Huntsville, Alabama where I cut my teeth in the news business as a producer and traffic anchor working the overnight shift. After a few years there, I got an offer to come to Nashville to be closer to home. I started off at WSMV as a traffic anchor on the morning show, which I did for 4 years while also going back to school to get my Masters. In 2019, I was promoted to weekend morning meteorologist.  Read more>>