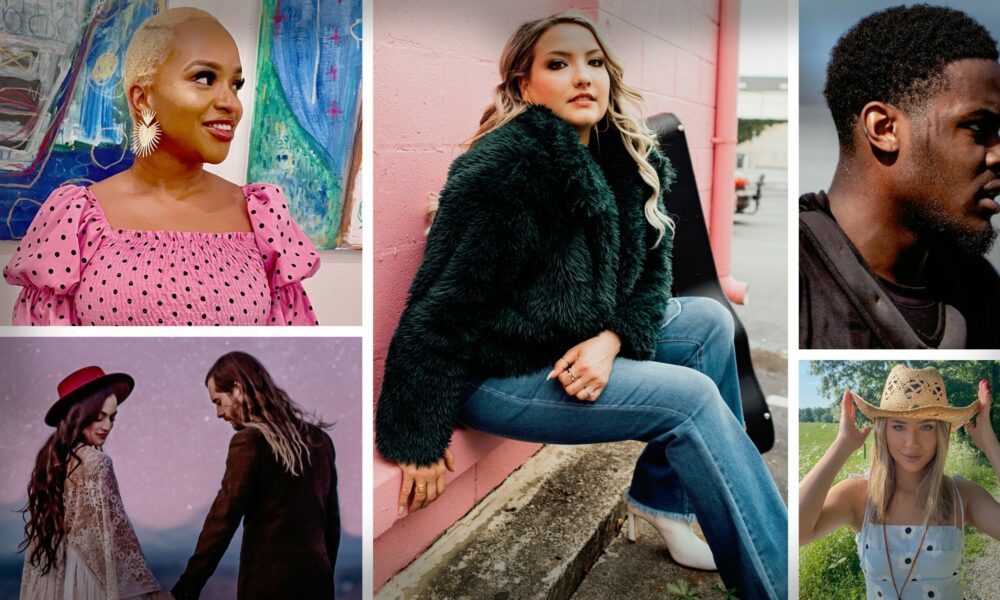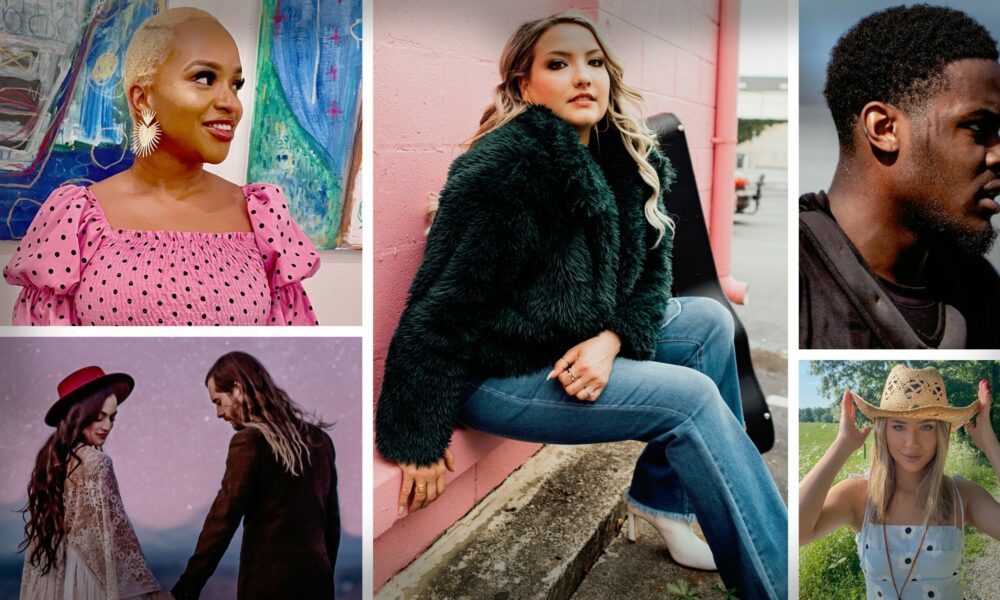 Every day we have a choice. We can support an up and coming podcaster, try a new family-run restaurant, join a boutique gym started by a local fitness champ or we could keep giving away our money to the handful of giants who already control so much of our commerce. Our daily decisions impact the kind world we live in; if we want a world where small businesses are growing and artists and creatives are thriving then we should support them with our time, money and attention. We're proud to highlight inspiring creatives and entrepreneurs each week in Hidden Gems series. Check out some of our latest local gem features below.
Stephanie Johnson

I am originally from Chicago, but I was raised in Memphis, Tn. Later, I moved to Nashville. I resided there for about 10 years. Rental housing continued to increase causing my husband and I to make the decision to move to Clarksville. We felt homes were more affordable here. We rented for about 3 years. I started working as a cashier while my husband was getting his accounting degree. For extra income, I also started two other businesses. I began putting too much into the businesses, and not generating enough income. I couldn't establish funding by the way of business credit, because my personal credit was lacking. We desperately wanted change, and to purchase a home. Read more>>
Markeith Braden

My entrepreneurial journey begin in around 2012 on a part-time basis, what I like to call parallelpreneursip. Since college I always desired to be a professional speaker, inspiring and motivating others to realize their fullest potential. There has always been something innate within me to uplift people. My very first paid speaking engagement happened while I was in college. During spring break of my sophomore year, I was asked to be the Mens Day speaker for my church. I remember speaking for 15 to 20 minutes, and leaving with a $500 check. From that day forward, I promised myself I would one day pursue becoming a motivational/inspirational speaker. Read more>>
Trina Harmon

In 2017, I moved to Nashville after commuting back and forth from Los Angeles for over 20 years, as a professional songwriter and as an intuitive spiritual guide, helping people heal and discern their soul's evolving purpose through coaching, energy healing, and cellular trauma release. When my healing work began to really expand, I knew I needed to be in a place that personally offered me a richer quality of life and Nashville has always been that place for me. When asked to describe my story from where it began, I find it quite challenging to name a beginning to a path I never thought to desire or seek out. But there is one burning thought that has accompanied me through life since I can remember, and that is, "There has to be more to life than this." Read more>>
Shannon Bradley

I have always had an eye for photography. Ever since I was old enough to hold a camera, I was snapping pictures of anything and everything! My family traveled a lot when I was younger and it was pretty much expected that I would be the one capturing the whole adventure. With my hobby quickly turning into a deeper passion, my parents surprised me one Christmas with my very first DSLR starter camera kit. I remember that being such a huge turning point, in both my love for photography and the growth of my skill set! The more comfortable I got giving direction and managing my camera settings in different lighting situations, the more I started taking on photo sessions for friends and family. This was definitely when everything started to evolve and ultimately turned into the photography business I have today! Read more>>
Aubrianna Spencer

It was April 2020 I decided to teach myself how to sew. It was right when the pandemic just started. Christmas December 2019, I asked my mom and stepdad for a sewing machine for Christmas because I wanted to start making my own clothes. My grandmother also Is a seamstress and I wanted to keep that passion within my family and learn how to create garments too. At the time I decided to start sewing I was a senior at Austin Peay State University where I was pursuing my bachelor's degree in communications. For those first four months, I was so scared to teach myself how to sew. I didn't even know where to start. I knew I could always ask my grandmother but some part of me wanted to take this journey alone and see how well I can learn, be dedicated, and be persistent. Read more>>
Brittaney Jenkins

Serving the community was an act of kindness instilled in me at a very young age. I was raised in a non-traditional household by my paternal grandparents. Most of the things we did as a family included serving those in need, donating, and fundraising. I remember raising over $800 for the Haitian Environmental Support Program in second grade and receiving a handmade necklace for my efforts. I still have the necklace to this day! It was a very proud and rewarding moment for me, those who led the fundraiser, and the families that benefited from those funds. I would say that was the steppingstone that led to me pursuing the field of public health. At a young age, I knew other healthcare professionals that allowed me to job shadow at the hospital in my hometown. Read more>>
Chisom Amadi

Besides being a chef, I am also a foodie! I have an immense appreciation for good food, granted I was extremely selective of what I ate as a child. As an adult I realized that I was only picky because I looked for flavor in everything I ate! My passion for cooking started at 8 years old, when I finally managed to convince my mother to teach me how to make my favorite soup at the time which was Okra soup. I was thrilled! I remember energetically jumping all around the kitchen and smiling from ear to ear. She walked me through the process, while I did most of the blending, seasoning, stirring and tasting. I was flabbergasted at how the okra soup turned out. The soup was very tasty and I remember saying to myself "wow, I am good at this". Growing up in a Nigerian household, our holidays are known to be celebrated with an enormous amount of food. Read more>>
Meg Norman

Photography has pretty much always been a part of my life. The first camera I really got excited about was a Barbie Polaroid when I was 5 years old, it was a gift from my parents and the beginning of my lifelong obsession. From then on, I could be found a using a plain old 35mm disposable camera, dressing up the neighborhood kids and posing them around the block or setting my doggo up in fun settings and photographing the scene. Photography followed me to high school where I studied film and began my journey with Photoshop and digital editing. Eventually I left my small hometown for New York City and started working for various photographers across the Big Apple. Although photography is what I used to express myself, up until this point I still hadn't figured out the avenue of photography I wanted to take. Read more>>
Isaac Middendorf

Music was always something that interested me as a child. I started making music in my bedroom when I was 14 years old just as a hobby sequencing beats on my ipad. Over the years that little hobby I had turned into obsession and I started learning how to record and play more instruments like piano, guitar, and bass. I am currently studying recording technology at Trevecca Nazarene University. Like many people the pandemic really affected my mental health and music became my escape and almost a lifestyle for me. The story of my company goes back in the summer of 2021. I was playing lead guitar and producing my band I was in at the time. The guys were great and it was a an awesome learning process for me. Unfortunately, we disbanded back in August which left me looking for new clients to work with. Read more>>
Leah Mason

Growing up, I was always around music. My dad was a drummer and my brother was an extremely talented multi instrumentalist so I was always inspired by them and what they were doing. When I was 10-13 years old, my brother and I played in a 70's rock band that toured across North Carolina. The first stage I ever performed on was the Lincoln theatre in Raleigh in front of over 200 people. Ever since that moment I was hooked and knew music and performing was what I wanted to do for the rest of my life. I ended up going to Berklee College of Music my freshman year of college and loved it, but realized if I wanted a career in country music Nashville was where I needed to be. I transferred to Belmont University which ended up being one of the best decisions I've ever made. Read more>>
Andrew Arbogast

Arbo's Cheese Dip is a Service-Disabled Veteran Business founded by local Memphian, Andrew Arbogast. A 10-year Army veteran and Apache pilot, Andrew left the Army in '17 for Corporate America. Unfulfilled, he started a manufacturing business during the pandemic, using his father's cheese dip recipe. This yellow, queso-style dip uses bold and spicy ingredients that deliver an unparalleled flavor and 'kick' that separates it from other dips in the market. Memphis began to rave when Arbo's Cheese Dip hit the shelves on May 15, 2021, and since then, the small business competing with several giants, rapidly expanded from Memphis to Nashville (and surrounding areas), gaining major retail and food service distribution through AWG & Sysco. Read more>>
Kayla Johnson

I began my journey as a photographer in central Kentucky at my university. I was your average broke college student, and my love for photography grew into a side hustle! Shooting grads and the campus ministry events I organized was such a joy. I was soon hired to shoot a wedding, and I quickly realized my sweet spot was in couples and wedding photography. My undergrad and graduate studies are in Marriage and Family Therapy, so naturally this is the area of life I'm passionate about. I married the love of my life in June 2021, and our marriage brought me to Hendersonville. Shortly after our wedding I pursued photography and media marketing full time. The clients I have in this area are absolutely wonderful. I've gotten to see couples experience new beginnings, weddings that are full of tears and laughter, and businesses that are growing quickly. Read more>>
Shawna Hannel

The honest answer is I believe somewhere deep down I was always destined to work with flowers. Most of my early childhood memories begin and end with me playing in my great grandmothers tulip fields or cutting lilacs and hiding them all over the house for my Mom to find. My great grandmother taught me the penny trick. Toss a penny in a vase of flowers and watch them bloom. It took me several years to really dive into floristry. I was actually a 911 operator for 10 years prior. During late night shifts I would Google new floral trends. I would dig through discount grocery store flowers and tried to recreate YouTube videos. Some were good, others not so much. After about a year of playing around I booked my first wedding. I had no clue what to do or where to begin. Somehow it worked, stuck, and in 2014 I left a career and chased a dream. Here we are… a flower nerd who gets to play with flowers everyday. Read more>>
Asa Johnson

It's kind of a funny story, I never really set out to do what I am doing now. It just kind of happened accidentally. I graduated from a small school in Western New York in 2014 called St. Bonaventure University with a degree in Business Management. During my time there I played baseball and also interned with the sports information department helping with stats, covering games and anything else they needed done. Once I graduated, I was asked if I would want to come back and take a brand new position they had just created called the "Digital Media Specialist" Essentially I was tasked with overseeing all video and graphic needs for the department, which included social media content, graphic design as well as covering a few sports as well. Read more>>
Ryan Yingst

I got into the idea of music as a career in late high school and decided to study engineering and performing side by side. In college I did that by getting my degree in music tech, with a concentration on performance. From there I spent a few years really developing the kind of on-stage performer I wanted to be by touring with a variety of players, but mainly a country act by the name of Justin Fabus. I also worked as an engineer during this time at Plus Minus Recording, where I learned from Sean Cho how to be versatile and navigate a lot of situations that were outside of what I had seen. I really credit this time as having created the foundation for the type of engineer and producer I am today. Read more>>
Cassidy Dickens

I actually started designing posters on Etsy in college. Now, downloadable posters are pretty standard and accessible. But in 2013/2014 it was a new thing. And my posters were horrible, like really bad. But it segwayed me into my career by leading to a job at my university, which then led to a job at a local church, with then led to me working in Chattanooga after I graduated 3 years later. I started an entire career by playing with fonts in my spare time to make a little extra money in college, and now I have clients in Chattanooga, Atlanta, and Nashville. I've worked both as a freelancer and for other companies but after a few years I just found so much more freedom being on my own. Through these different jobs and my education, I acquired not only design skills, but photography, motion media, illustration, and content creation. Read more>>
Brett Glover

I've always loved expressing myself through personal style but it wasn't always something I was proud of – so as a teen, I hid my creativeness and attempted to blend in. Standing out got too much attention and a lot of that was negative. I eventually landed my dream job in retail and began to embrace that creativity once again. After 10+ years in mall retail, I needed a change. Out of desperation (and out of money) I found a job at a thrift store! It was the best job ever! I learned so much there and decided to combine my love of traditional retail and thrift and create Glover's Secondhand. I call it a "thriftique" because it's a hybrid of thrift and boutique. Read more>>
Bryan Clayton

GreenPal was started by myself, Gene Caballero and Zach Hendrix in the summer of 2013. Since then , GreenPal has become an almost 10 year overnight success, nationwide United States with over 300,000 people using the app to hire lawnmowing services. GreenPal started in Nashville Tennessee very humbly and under the radar for many years until our team quickly scaled out into every major city in the United States. GreenPal works kind of like the Uber for lawnmowing and is a mobile app and website that enables homeowners to hire lawn care services at the touch of a button, while offering a complete platform for lawn care service professionals to run their entire business. Read more>>
JoJo Scott

Music has always been a major part of my life. I've always loved singing and performing and have always felt emotionally connected to music from a really early age. When I was in fourth grade, my mom enrolled us into guitar lessons. I wanted to quit many times but she continuously pushed me to keep going. Thanks to my mom, I kept going and learned how to accompany myself while performing. This opened the door for me to start writing my own songs. I started writing my own music around the same age I started performing solo at open mics and local pizza shops. I was about 12 or 13 at the time, and it's where I felt comfortable expressing everything I was feeling. Since then, I have gotten to work with so many amazing musicians in the studio and I started releasing my own music in 2015. Read more>>
Megan Smith

I started cosmetology school straight out of high school in 2013. I didn't really have any direction or plan for my life yet, but I knew I liked to make my friends feel pretty when I did their hair and makeup. I graduated in 2014 and immediately had friends and family that wanted to support me in my career. I've been so lucky to genuinely have the best clients in the world who have supported me through so much growth. After being a stylist in New York for 7 years, it was time for me to move to Nashville. For years I'd been telling my clients that my goal was to be a stylist on tour with musicians, and Music City was the best place to achieve that. I've been here since October and it was the best decision ever. Read more>>
Tresa Halbrooks

In the late 1990's, I worked for a large retail giant corporate headquarters based in Brentwood, TN – Service Merchandise where I began my career in Community Relations and Event Production. I moved on to one of the largest entertainment companies (at the time) Gaylord Entertainment before joining the NFL / Tennessee Titans in 2001. In 2012, I was blessed to launched LEGACY Consulting, PR & Events, an award-winning public relations, brand management and special events production firm that focuses on clients ranging from professional athletes and entertainers to corporate entities and non-profit organizations. Read more>>
Jed Harrelson

My first interest in music started when I was a kid watching my papaw play guitar and sing at every family function. Watching how emotional it made people made me interested in picking it up at about 8 years old. Once I put a guitar in my hand, the songs started flowing out. From then on, me and papaw would play together at these family outings. Growing up i remember multiple times going up to the restaurant entertainment and begging to pay some a couple songs no matter where we were. Busking was something I also loved to do.Fast forward to my highschool days where i would play at fire parties and then soon put it up almost completely when i graduated higshcool. I went to college in Fayetteville, Arkansas where I really spent time doing other things besides music. Read more>>
Denise Maclin

It started with my own fitness journey in 2018. At the time, I was just going with the flow and wanted to lose some unwanted weight. Did I 100% know what I was doing or getting myself into? No. Did I enjoy the process and start to realize I was passionate about fitness? Yes! I remember being so nervous about posting my workout content on my social media. I would post videos and then instantly delete them because to me, they just weren't perfect enough or I didn't look the way I wanted to. About a year in, I built up the courage to post little snippets of my workouts. It wasn't long before the messages started rolling in from women who were so inspired and it was crazy because I didn't realize they were on the journey with me, and that's been the most rewarding part. People kept telling me, "you should be a personal trainer." "You're so inspiring, and you're motivating more people than you even know." Read more>>
Matthew S. Santana Jr.

Gary, Indiana, is where I was born. Severely premature at 1 pound and 3 ounces. By the grace of God, I survived. Survival gave me a purpose in life from the very beginning. I knew that I had a mission to fulfill on Earth, and I learned early to recognize my talents and gifts. Being HELPFUL and HOPEFUL were my callings that and I answered early. At an early age, I developed a strong passion for the arts. Especially literature! I became passionate about reading as many books as I could and found enjoyment in connecting with characters, plots, and different styles of narratives. By high-school, I found my first job at the local library, the perfect environment to relish in my favorite past-time. As I grew into an adult, my hobby turned a passion for storytelling took a life of its own. Read more>>
Emily Barbarita

I've been photographing people my whole life. I would always be the one with my little digital camera walking around capturing my friends at dances or family on vacation. But my journey with wedding photography started about 7 years ago, while I was in school for Speech and Hearing Science. I had a friend who was a wedding photographer and I remember being shocked that she was able to make a living photographing people, especially people in love. I asked her if we could get coffee and I basically went through a list of questions, trying to learn more about what she was doing. She eventually asked me to second shoot and I fell in love instantly. After a year or so of investing in education and second shooting I finally felt confident enough to shoot my first wedding. Read more>>
Liliana Petrova

My story begins in Sofia Square, Bulgaria, where the overthrow the Communist regime taught me you must adapt and take risks to grow. This mindset drove me to move to America to continue my education and pursue an impactful career. I began my US career at a casino in Atlantic City, where working in hospitality taught me how to manage a team focused on customer service. After graduating from St. Francis College, I joined Keyspan Energy where I discovered how organizational culture and community can make or break a company. I developed world-class project management experience and other invaluable skills at Royal Bank of Canada. Then I took another major risk and embarked on my MBA studies at New York University. Read more>>
Joerilla Drums

1978 I was born in Pontiac, MI; my family moved to Spring Hill, Tn, in the summer of 1990. the transition was challenging at that; coming from the north and moving into a small country town in the south of 1500 people can only be described as a "cultural shock." From an early age, I never had a problem making friends or being the center of attention, and that is what I set out to do in this new environment. I can remember telling myself the morning before the first day of school, "I will become the most unforgettable person in this school" I accomplished that with little effort. From as far back as I can remember, I was an entertainer and a creator, always making people laugh by telling stories or repeating my favorite comedian jokes in the classroom, at family gatherings, or on the playground. Read more>>
Emma Vieser

I've been making art for so much of my life that it's hard to trace it back to a singular beginning. I really started taking my art seriously in high school and pursued a formal art education in college. I ultimately ended up studying 2D art in college with a focus in photography and printmaking at the University of Tennessee in Knoxville, where I also found a passion for art history and visual culture. I graduated into the pandemic in spring of 2020, which completely derailed my plans to go into the museum industry. While I don't want to downplay the trauma brought on by the pandemic, it was a really important turning point for me. My life was on pause for the foreseeable future and I was able to play around more with my art outside of the pressures of academia. Read more>>
Noah King

I started playing drums at a very young age. My dad would take me to Nashville studio sessions growing up so I had instant infatuation with the world of recording. I was in band all throughout grade school. I started writing songs when I was in the 5th grade and shortly after started making my own beats on my moms laptop. I practiced my craft everyday for a decade or so. whether it was in my bedroom making music, during class, or even in real studios. I really took the time to listen and respond to what I was hearing. Nashville played a huge role in my sound and still does to this day. South Carolina and the music scene there also plays a huge role in my music. Producers like JetsonMade and artists like 18veno, really have shaped my most recent sound. I spent a lot of time in South Carolina and I like to think that I get a lot of my storytelling from there. Read more>>
Madison O'Dell

From a young age, I have always looked for new ways to let my creativity show. I grew up in a small rural town in Kentucky, so fashion and style were never super prevalent in my life. As I got to college, my world expanded drastically. Making new friends and transitioning into a new environment, I was suddenly surrounded by new fashion trends, and I quickly fell in love with the process of finding my own personal style. Fashion is yet another creative outlet I have been able to implement into my life. A good friend of mine started getting into social media, and encouraged me to do the same, so here I am today. Though I haven't experienced much growth in following, I have grew in my passion for connecting with others, my love for fashion, and my confidence in myself. Read more>>
Kaya Williams

My name is Kaya Williams, and I am the owner of The Green Farmacy, LLC. We are a fifth generation family farm dedicated to creating handmade hemp products the way nature intended: no pesticides, no tillage, just cannabis. My passion for regenerative agriculture is ingrained in me. Growing up, I spent many weekends and summers at my great grandparents' farm tucked away in small town Adams, TN. I ran freely, played with the cows, and quietly fell in love with the Tennessee countryside. After my great grandparents both passed away, the farm sat vacant for nearly a decade without any other family members interested in farming. Eventually I went off to college, but by the time I graduated, I just wanted to be back at my happy place – the farm, where time passed slower and life seemed more gentle. Read more>>
Winslow Dumaine

I do a variety of things, so it can be hard to pin down exactly how it started. I got on stage for the first time around 2013. I went to mics and shows in bars and taverns across town. Barley Street Tavern, now closed, was my weekly hang. I started drawing in a more collected and serious capacity around that time too. I'm not a drinker, so I would sit in the bars and draw in the low light. I think the slapdash approach to my early work was guided by the dismal setting. It was like finding shapes in clouds – I would draw lightly in pencil when I could hardly see the paper and then ink it, every mistake and miscalculation, in full light. The result is more dreamlike and free than if I did the whole thing in the strict and unforgiving light of day. Read more>>
Justin Pointer

My business started as a spinoff from my Personal Training career. I have always been the one to put the effort in to look presentable in the gym, like even from High School. I always wanted to look good, to feel good, to lift good. I'm also a Nike head. So I was always dressed head to toe in Nike. One day, I was like, "I want something exclusive from Nike…" So…that thought, actually what pushed me to start my brand. Because now, everything I wear or want is exclusive, ya know? Since I was always the one to tell my friends when they weren't presentable in the gym, in a joking manner, why not give them something to wear? What would I wear? What would I like to see them wearing.? Now, I'm seeing both in my gym and across the nation. Read more>>
Rachel Ebio

Truth be told, I've always been a writer. It just took time for me to stop listening to the doubts from my subconscious saying it wasn't possible or I wasn't good enough. I clearly remember in 3rd grade being an avid reader. My parents would drive my brother and I 20 minutes out of Birmingham, Alabama to see our grandparents. I'd always have a book with me. If I was close to finishing one while I was there, I'd have brought another to begin with, so hardly any time would have elapsed without a book in my hand and a fantasy world to dive into. The last two years of high school was where I saw my potential as a writer and an all around creative instincts began. I wrote a play and short stories. I was in advanced digital photography. I had even won a state photography and creative writing competition. Read more>>
Sue Ray

I'm lucky! I was born into a musical family and from the age of eight, cut my teeth playing at my local country music club. My father was in a couple of bands, and my mother joined me up to a kid's performance group that went around performing at local festivals and carnivals. So, from the age of about nine I was being paid to perform. I had the bug! When I was fourteen my Dad taught me a few chords on guitar and that was it, I went straight off and within weeks had written my first song. It just fell out organically and I had no comprehension at the time what a blessing that was. I went through a hard rock/punk/heavy metal phase through my teens, so my singer songwriter vibe was put on ice as I took more to playing guitar in several all-girl rock bands. I studied sound engineering, music production and acting in Brisbane Australia and continued through my twenties performing at local clubs and festivals, always as a backing singer and guitarist. Read more>>
Yasmine Chambers

All Things Beauty first came about in the fall of 2015. I had no intentions of it being a full time career; I just enjoyed doing hair, makeup and nails for fun. At that time, I was enrolled in college at Bethel University to achieve my bachelors in Music Industry Studies. That plan faded after about 2 and a half years of being enrolled. I realized that wasn't what I wanted for my future. I then came home and needed to redirect my life but didn't quite know where to go from there. My dad suggested that I go to beauty school since I've always had a passion for all things beauty. I enrolled at the top of the year in 2018 at Empire Beauty School in Brentwood TN and graduated the following year in January. I then went on to obtain my cosmetology license on February of 2019. I explored several different types of shared salon settings and quickly realized that wasn't my style. To better myself in the wig making craft, I took a custom wig making course in July of 2019 as well. Read more>>
Darrie Sayles

I had been a SAHM for about six years. My husband and I decided I needed to go back to work, so found a job where I could take my youngest daughter with me. However, I quickly realized being gone 10 hours a day, was NOT for me! I missed being there for my girls. I wasn't happy and knew that I was meant for more. So started searching and found a VA program. I enrolled and loved learning about the online world that I never knew existed! There was a part of my VA program that did teach us about podcasts, which is where I first learned about it, but wasn't super detailed, and I didn't know how needed podcast managers actually were. Read more>>
Sierra Henley Ashburn

Nashville native with a love for growth, nature, reading, sports, and travel. Making a difference has always been my goal. Being a mom and owning a farm were my largest personal ambitions growing up. How all that was going to look…early on, I wasn't too sure. I have been blessed to work with amazing families as a professional nanny, serve the community as a 911 Dispatcher, and gain a diverse skill set through various education, employment, and volunteer opportunities. In one of my last experiences prior to becoming an entrepreneur, I was able to step into opportunities that pushed me outside of my comfort zone and allowed me to identify my potential and joy for helping others in the business world. I fell in love with relationships and strategy. Over dinner with an operational leader and friend I had connected with during this season of life, she shared with me of how she saw my potential and encouraged me to take the leap. Read more>>
Trendsetta Nini

Personally being born and raised in Tn. It was kind of hard finding queer poc people like me! So I typically looked and traveled the outskirts for people more like me! Which also paved my way into fashion and content creating/directing! Although I am very queer. What I mean by that is I feel like I live, breath, sleep queer but when people typically look at me I get the comments like "oh your to pretty to be gay", as if being pretty, beautiful, ugly has anything to do with being queer! Being in Nashville it was super hard being that "gay" person and I have always been more of a tomboy then super feminine. So much that people like family, friends would make comments like "hope your not one of those carpetmunchers" " your going to hell if your gay" "men and women should be together". Comments like this definitely made me figure out what person I WANTED TO BE! Read more>>
Stryker

Growing up, my family only listened to 90's and early 2000's country music, and christian music. I always enjoyed singing from a very young age, but mostly just when I was alone, or occasionally at church. It wasn't until around the time that I was in middle school, The Jonas Brothers came out, and I began to be drawn towards pop music. To me, it just sounded different, and cool, and obviously I loved how much the girls liked them. So I wanted to be like them. So from there, I did choir in school, and musical theater, but never really ventured into creating music. In 2014 I moved to Middle Tennessee to pursue a degree in mechatronics engineering at MTSU. I met a friend in the dorms there that played guitar and had a lot of connections in Nashville. He found out that I was into music, and we started hanging out and he started taking me to shows around town, and we were using his connections to get backstage and meet a lot of cool artists. Read more>>
Danny Dones

I would say my career in film started when my family bought our first video camera. I loved doing in-camera editing to create what I thought were mind blowing special effects. One day my older cousin showed me a shot for shot remake of "Terminator 2" he and his friends did, and for the first time I realized that I could make my own movies. It absolutely changed the course of my life. I became obsessed with movies, as a teenager I would rent 5 or 6 VHS tapes at a time and spend weekends watching them. When it came time to go to college, I of course decided to major in… Biology. At the time I thought you could either be a director or an actor and both seemed so unachievable to a little farm boy from Kentucky. After a few years I realized how miserable I was, and started taking classes in broadcasting, which was the closest thing to a film program my school offered. I got an internship at the local NBC affiliate, which became a career path through my 20's. Read more>>
Kiki Dryden

Baking and decorating snuck up on me. I took an interest in Food Network cake shows while on Maternity Leave. I soon began to play around in the kitchen and try to recreate the masterpieces I saw on television. I quickly learned it was harder than what they made it seem. But with a Beginners class at a local craft store that unfortunately transitioned into self teaching after a lack of interest in other students for the follow up classes, practice and lots of trial and error my love of cake decorating has grown into what I like to call culinary smiles. Read more>>
Dana Kalachnik

You know those times when, even just for a split second, you stop and wonder about what the alternate reality version of yourself is doing and you entertain what kind of career or type of life you would be living in a completely different universe? Well, I truly can not even imagine a life for myself where I am not living my life as an artist. I truly believe that I was always meant to be an artist and live an artist's lifestyle and there really isn't an alternate reality where I am not doing exactly this. I grew up in Indianapolis, Indiana and have always lived a very creative lifestyle and had a very creative upbringing. I was on the dance team, attended drama club, loved creative writing, was the editor of my high school newspaper, obsessed with all things fashion… Read more>>
Casey Derhak

I was born in Portsmouth, New Hampshire and lived in Dover, NH until middle school we moved to Palm Beach Gardens, Florida. I grew up playing baseball and music.I played in a band in high school called "Friends With Benefits" and we played all the parties. After playing college baseball I started playing music out all over South Florida. That bands name was "Heading For Third". I sang and played acoustic guitar. I started traveling to Nashville in 2008 and writing and pitching songs and made the move to the music city in 2011 with my wife Andrea. We got married in 2014 downtown at Aerial which seems to be one of the few roof top places at the time. We lived in Bellevue for 10 years and really enjoyed being by Edwin Warner Park. Read more>>