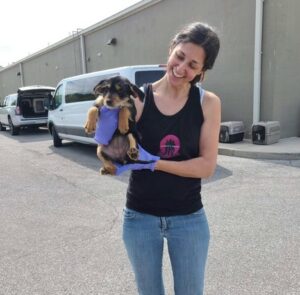 Today we'd like to introduce you to Laura Prechel.
Hi Laura, please kick things off for us with an introduction to yourself and your story.
In July of 2015, I moved from Nashville to Columbia with the plan to purchase a bigger house with some land that would allow me to foster dogs.
I jokingly referred to the plan as purchasing a "dog farm." I began fostering in January 2016 for a local rescue and found myself with four fosters within the first two weeks.
I quickly learned that fostering was a lot of work, especially if all the dogs didn't get along. I knew that fostering involved committing to a dog until they were adopted, but I had no real idea how long that commitment might be. Nine months later, I was beginning to feel like I might have four permanent houseguests!
Eventually, the original four fosters found homes and I had additional fosters rotate through, but I had learned my limits by that point and decided I would prefer to foster no more than two dogs at one time, and that I really would prefer two that got along since it makes life much easier!
During the many months that I was at capacity with four fosters, I was saddened by the never-ending "urgent" lists of shelter dogs in need of rescue and by my inability to help more than a few at a time. In the fall of 2016, I received the bad news that the rescue I was fostering for was going on intake hold and would no longer be able to save the urgent dogs at the Maury County shelter. I felt a strong urge to find a way to help.
I began by contacting any local rescues that Google provided info on, and I received only the dreaded "we're full" response. I got outside my comfort zone and started bugging co-workers about the idea of fostering or adopting the Maury County urgent dogs. Then one day I had a lightbulb moment. I had been a volunteer at the Williamson County shelter for years and I remembered that they used to participate in a program called Rescue Waggin' that was run by Petsmart Charities.
Petsmart Charities used to send a van to different southern shelters and load up pre-selected dogs and transport them to northern shelters that had available space and waiting adopters. That program had been discontinued, but it occurred to me that just because the Rescue Waggin' had stopped rolling, that didn't mean that the need for adoptable dogs had disappeared.
I reached out to the rescue coordinator at the Williamson County shelter, and she was able to provide me with a spreadsheet that included the names of all the shelters that had participated in the program. I was excited to see some shelters listed in nearby states, but once I started checking out the websites of the different groups, I discovered that the nearby states had been what is known as "source" shelters whereas the more distant states were the "destination" shelters.
I had contacted a shelter in OH and it turned out they were a source shelter, but they sent me a spreadsheet that was sorted by source and destination, and it also included the email address for the rescue coordinator at each shelter. I was finally on the right track!
I drafted an email and just copied and pasted and sent it to each of the destination shelters. Within a few days, I received responses from a shelter in Delaware, a shelter in New Jersey, and a shelter in Iowa, saying that they could help. Plans were made for transport to Delaware. The Maury County shelter had published a new urgent list and the Delaware shelter was willing to take two off that list and they asked about additional options.
They wanted to start with a small transport of five dogs to make sure they were truly healthy and friendly before they took in a larger number. My good friend Tish was crazy enough to say yes to an overnight drive to Delaware, and my transport journey began right before Thanksgiving in 2016.
I rented a minivan and away we went! As soon as the shelter manager met the first dog we unloaded, he smiled and said, "We can definitely help." Tish and I drove back home feeling a great sense of accomplishment and I felt hopeful that I had found a way to save the Maury County urgent dogs.
We did a split transport to Delaware and New Jersey in December 2016 and then in January 2017 all three shelters were prepared to take van loads of 15 or so dogs. I quickly learned several things. 1. Van seats are incredibly heavy and nearly impossible to remove and reinstall alone. 2. Working all day and then driving through the night is hard. 3. I did not have very many friends that thought a 24+ hour van ride sounded like a lot of fun.
I work full time and have a limited amount of vacation time. It turns out most shelters like to receive transports on weekdays, so they are appropriately staffed to receive a van load of animals. So that math added up to me needing to make my vacation days spread as far as they could, which meant picking up a van after work, getting the seats out, picking up dogs from the Maury County shelter, and hitting the road!
After delivering the dogs around 9a the next day, I would need to get back on the road for TN so I could be back at work the following morning and only use one vacation day per transport. Does it sound like I'm crazy? Probably! But there were dogs that needed saving and I had the desire and ability to make it happen.
I started a GoFundMe campaign and would use donations that came in from that, as well as my own money, to rent vans, pay for gas and pay for the necessary vetting and shelter pull fees to get the dogs to safety. I quickly discovered that there wasn't any shelter that was willing to take all the dogs on an urgent list, but each shelter could take a lot of dogs.
So, I would end up having to do 2-3 transports to place all the dogs on the urgent list and would move additional dogs on each transport. I learned that it was much easier to just proactively move any dogs I could, which in turn kept the shelter population from reaching critical levels and kept away the need to create an urgent list. Within the first year of transporting, I actually felt like there was a little breathing room and like transport wasn't a critical need.
It was at that point that I was introduced to Trisha at RARE Rescue, and she wanted to take me to West TN to visit some of the rural pounds that she worked with. That trip opened my eyes to a whole new area that desperately needed help to save animals. Many of these pounds are small, cinderblock buildings with maybe ten kennels.
They're often staffed by one or two "dog catchers" who don't always care about what happens to the dogs in their buildings. Trisha and I would drive to these pounds to take photos of the dogs and behavior test them to make sure they were suitable candidates for adoption or transport. She would pull any that she felt she could place into her adoption program, and I would work on placing the rest with my transport partners.
I ended up taking on the role of Transport Director for RARE and continued to save more and more animals. We also had the opportunity to transport animals on a private airplane! That opportunity popped up in the fall of 2019 through a local pilot that connected with us about flying dogs.
Transport is tough because there is no revenue stream and it's all expense. Under RARE, I had the ability to apply for some grant funding, which was a huge help to the program. But I discovered that I didn't really have a good platform to tell the story of what was being accomplished and to raise donations for it since the adoption side of RARE really needed to raise funds as well.
I had never wanted to establish my own 501c3 organization, but it became evident that it was the direction I needed to go. With the help of two friends I had met through rescue, Maily Tran and Ashley Anderson, we formed Charlie's Angels Saving Animals aka CASA Transport.
One of the biggest hurdles to transport is getting the appropriate vetting, including a health certificate for interstate travel, done in a timely and cost-effective manner. It's also difficult to get all of the animals gathered to a central location prior to early morning or late-night departure. I should backtrack here to add one important piece of the story.
When I only transported dogs from the Maury County shelter, the staff would take them to vetting appointments and get all the paperwork ready and I would just load the dogs up at the shelter at night, or early in the morning, and away I would go. Once I started helping multiple locations, I had to gather the dogs at my house the day before transport so they would all be accessible at whatever crazy hour of the night that I needed to load the van to reach my destination on time.
So, my house ended up turning into a transport hub with 2-3 means of transport leaving out of it each week, sometimes even that many leaving on the same day! My dog farm had really taken on a life of its own!
In dreaming of starting a transport-focused organization, two big hurdles that we needed to tackle were ease of vetting and ease of housing animals prior to transport. We wanted to find a building to operate CASA out of where vets could come to us to examine the animals and prepare them for travel, and we wanted a place where the dogs could easily spend the night prior to transport so they weren't keeping me from much-needed sleep by barking in my basement.
We had also hit one unexpected hurdle during all the Covid shutdowns, which was the lack of easy access to spay/neuter appointments. Many clinics drastically reduced their surgery appointments, and many had a wait list of 30+ days to get an appointment. We had rescues that were willing and able to take animals, but we couldn't get them vetted quickly enough to get them on transport.
Some of our foster-based partners that didn't require us to alter the animals in advance were also feeling that crunch on their end, and it was tying up foster homes for weeks or months while they waited on an available surgery appointment. So, one additional goal that we had set was to create a surgery suite at our CASA building so that we could have vets come to us to perform spay/neuter surgeries prior to transport.
This was one more way to streamline the pre-transport vetting process.
The one important piece that I think escaped my notice in all this planning and dreaming was that by bringing all of that vetting work in-house at CASA, we were taking that work on ourselves and making our workload a lot heavier while we made things more convenient for everyone else! But ultimately, once we adjusted to the new workflow, it really was the right model and the way things needed to operate so our program could continue to grow.
So, the CASA timeline is that we did our first official CASA vetting day on 4/21/21 and our first transport the following day. We started out renting a warehouse building in Mt Pleasant and quickly realized the location wasn't suitable. It was too far away from my house, and I needed to go there multiple times a day if the dogs were to be housed there.
So instead, we ended up just vetting them at the building, and then they still spent the night at my house, which just ended up adding more work to the equation. We began the hunt for a new location, and it dragged on for months. We finally found a property that is just 8 mins from my house and my husband and I purchased it so it could be the home base CASA needed. We moved into our new casa on December 1, 2021.
Once we had a more permanent location, it was time to start working on that surgery suite! We were blessed with donations from several supporters that allowed us to purchase the necessary equipment and we were able to hold our first transport surgery day on 2/26/22. Since then, we have held 15 surgery days and altered 290 animals.
In our first year of operating CASA Transport, we held 78 vetting days, transported 2,660 animals from Hopeless to Home, logged 6,680 volunteer hours, and held 6 surgery days with 97 animals altered. We're incredibly proud of what we've accomplished and we're just getting started!
If I could give people one piece of inspiration, it's that one person truly can make a difference. What started out as my desire to save Maury County shelter dogs has turned into a mission that has changed the course of my life. I've transported over 9,000 animals in the past 5.5 years.
Not only has it saved their lives, but it has changed the lives of countless families that have had the privilege to adopt them. I have met so many amazing people and made many new friends on this journey. Follow your heart and don't be afraid to do what you think is right, even when the road is long and difficult. You'll never regret it.
I'm sure you wouldn't say it's been obstacle-free, but so far would you say the journey has been a fairly smooth road?
There have been a lot of challenges. I feel like I covered most of them in my very lengthy story, haha, but I will recap them here.
Early obstacles: Finding destination shelters, Vacation time, Long drives, Renting vans, Money
Obstacles in the middle stages: Housing the dogs prior to transport, Finding transport drivers so I could do more transports with my limited vacation time, Purchasing a van, Money
Obstacles with CASA: Finding the right location, finding vets, getting all of the supplies we needed, increased time commitment from us to handle vetting in-house, finding more transport drivers, raising awareness of a new organization, money, not being able to apply for most grants for two years since that's a requirement of many grantmakers.
Can you tell our readers more about what you do and what you think sets you apart from others?
I think what sets us apart from others is that we're not a "rescue" in the traditional sense. We're an organization that is solely dedicated to rescue via transport, and that allows us to save a much higher number of animals each year than we could save if we were an adoption organization. We currently help 50 different shelters/pounds/rescues in TN in 30 different counties, and we even help a couple out-of-state shelters. Having the ability to do our pre-transport vetting in-house also sets us apart and makes our organization very efficient, as does our ability to offer spay/neuter services. We're able to make every donated dollar stretch as far as it possibly can and we're able to save a lot of animals at a very low cost per animal. The fact that we're a 100% volunteer organization helps with that as well. We can save animals at a fraction of the cost of other organizations that transport animals.
Any big plans?
The location my husband and I purchased for CASA will likely be temporary. It was meant to get CASA by until there's more money and more financial history so that CASA can hopefully purchase its own location. We will likely outgrow our current spot in the next 1-2 years.
I would love to see our surgery suite expand and grow when we have a bigger location and ideally would love to turn it into a resource for the community and offer low-cost spay/neuter. Spay/neuter is the ultimate key to ending the companion animal overpopulation issue. I love that we can help the animals that are already here by offering transport and that we can prevent future unwanted animals by providing spay/neuter services.
It would also be wonderful to grow our volunteer base to a point where we have many people that are available any given day to help with the day-to-day tasks like cleaning crates, caring for the animals, doing laundry, etc. Maily, Ashley, and I all work, as do many of our volunteers, so a lot of tasks have to be accomplished around work schedules. I often clean crates after work or spend many hours cleaning crates on the weekend.
We currently have two transport vans and will soon purchase a third. We always have a need for more drivers so that we can send out multiple modes of transport on any given day. It would be amazing to reach a level where I wasn't the only person that handles all the early morning loads. My husband is always willing to help, but it would be great to have multiple people willing to do the van loading as well as the animal care of potty breaks and feeding the night before transport.
CASA seems to have a really special energy and we have been so blessed with an amazing team of volunteers. We just need to expand that team a little more! One thing that has been a neat surprise for me this past year is seeing the joy that so many of our volunteers get from being a part of this mission.
Contact Info: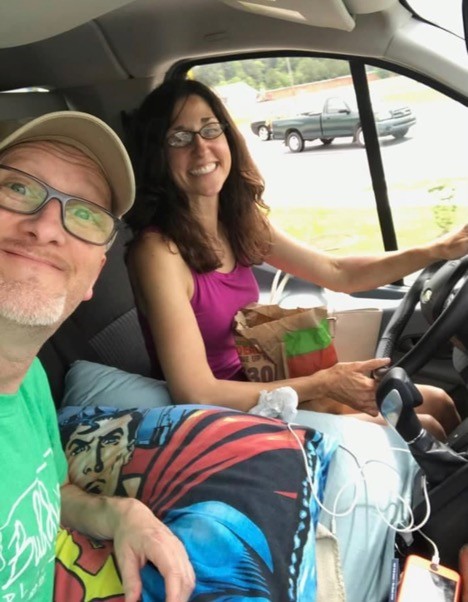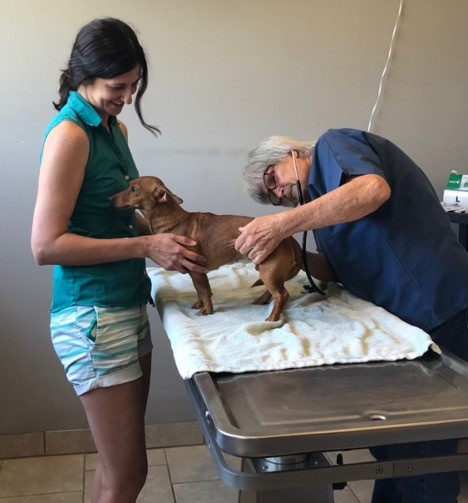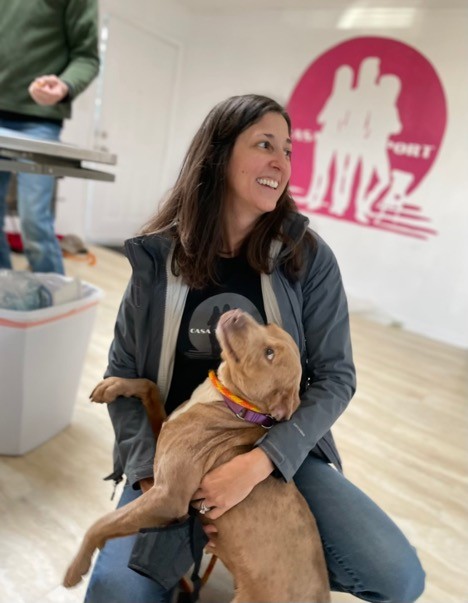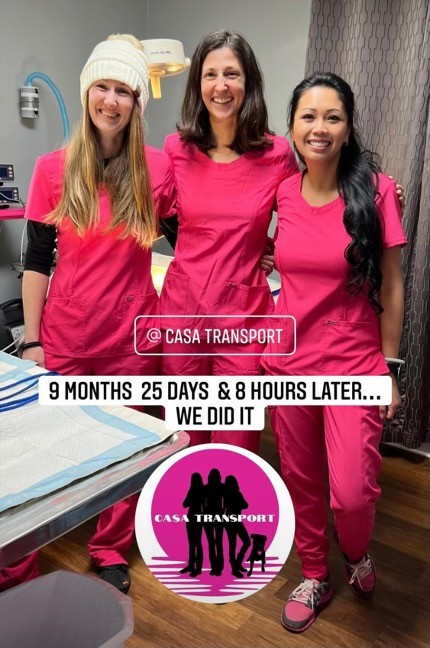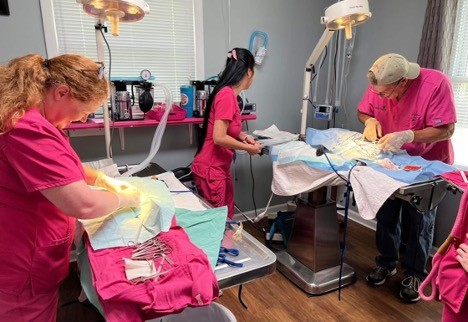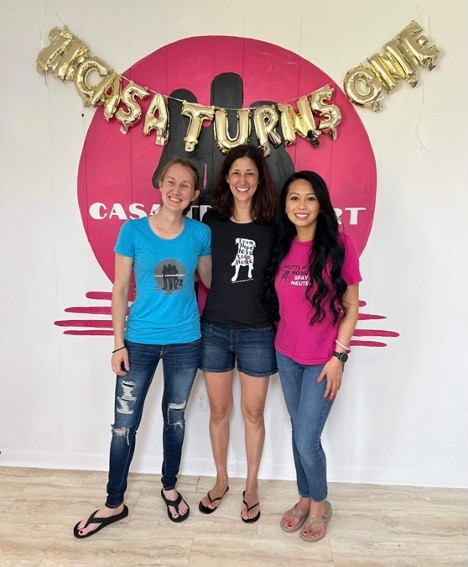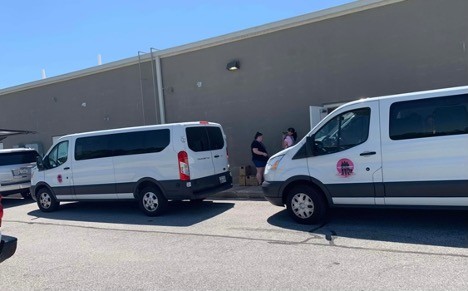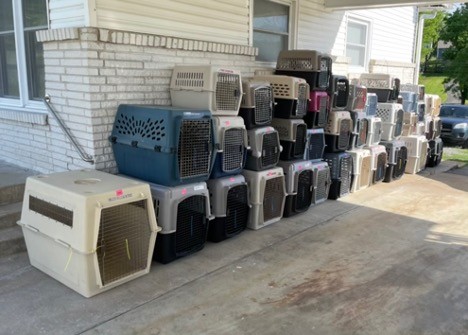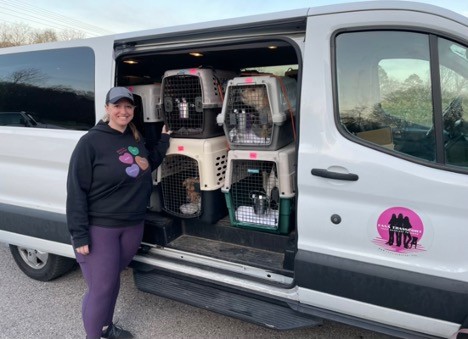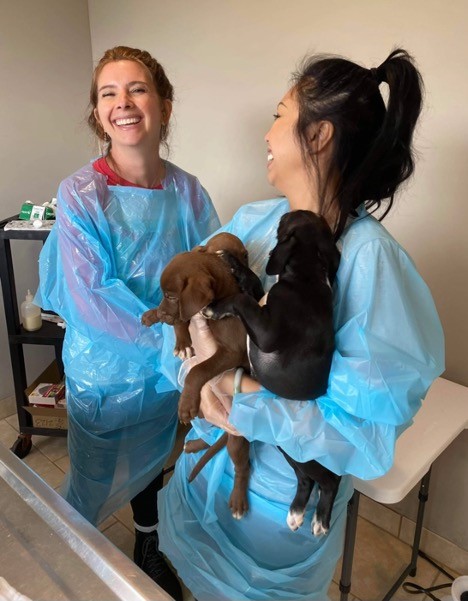 Suggest a Story:
 NashvilleVoyager is built on recommendations from the community; it's how we uncover hidden gems, so if you or someone you know deserves recognition please let us know 
here.