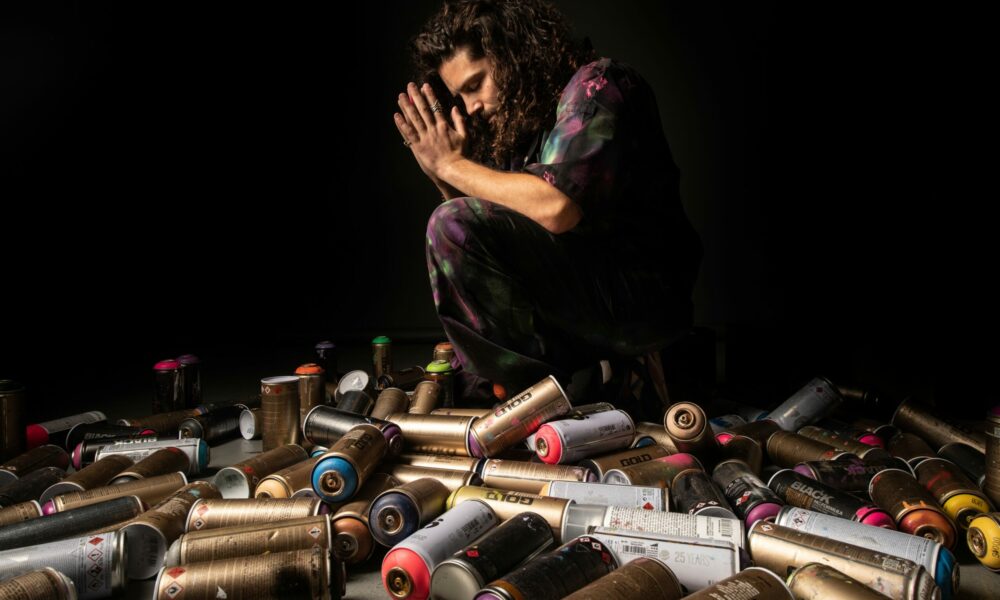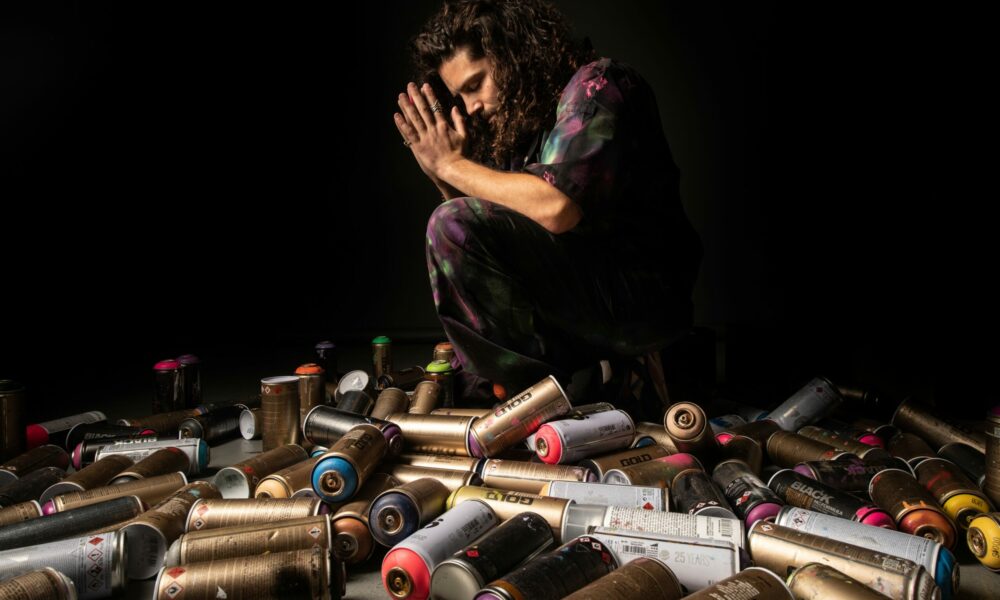 Today we'd like to introduce you to Tyler Key.
Hi Tyler, thanks for joining us today. We'd love for you to start by introducing yourself.
I was born and raised in Birmingham, Alabama. Fueled by the encouragement of my older brother, David, I began drawing at 6, copying his awesome drawings of Spawn/ X-men/Predator/Street Fighter characters in his Comic Book late 80s and early 90s era.
I began my professional career at age 11, trading drawings of popular DBZ and Pokemon characters and illustrations I would make up to classmates for snack money. In high school, my style evolved due to a well-placed challenge from a high school art teacher, "Those are cool drawings, but I bet you can't draw real people" so I delved into Realism, where I began to bring faces to life. ( Thanks Ms. Bishop! )
Even after winning local art competitions and receiving statewide recognition for my charcoal and graphite art, my family consistently assured me that being good at Art was always 'cute', but never a serious career. So, after graduating high school I set out for law school but ended up calling an audible to instead earn dual bachelor's degrees in Business and Art at the University of Alabama.
I have to credit the juxtaposition of these degrees for teaching me entrepreneurship, setting me up to run a business in the future, as well as expanding my range of mediums, and exploring a passion for painting — shifting from the black and white world of charcoal into the whimsical, colorful land of oils, acrylics, inks, and taking advantage of the speed of digital media.
Directly after graduating with my second degree, I moved to Nashville, Tennessee. It's in our beloved Music City that I was able to utilize both my business and art savvy to find a creative niche in the music industry. From the beginning working in A&R for an independent label to heading marketing for a streaming radio station, starting my own artist management company, then working for a major artist mgmt\PR company.
I got field event experience throwing my own shows around town, then working as a co-art director and then festival director of local festival Further Fest, to doing admin and production for major festivals from coast to coast; such as Sweetwater 420 in Atlanta, Watershed in The Gorge, EDC in Las Vegas, to Lollapalooza in Chicago, and Rolling Loud in Miami, all the while doing renegade, live mural installations for my favorite festivals abroad and performing paintings on stage when I was in Nashville for local and major artists in my circle.
These experiences enforced the relationship between art and music that I wanted to emphasize and allowed me to absorb how artists were effectively expressing themselves at all these major festivals.
While always been a fan of street art, a trip to the west coast and its meaningful, vibrant graffiti scene illuminated and invigorated me, and I wanted to tap into that duality and bridge the gap between music and art In Nashville– seeing that street art, which was underutilized in our city, was the best way to reach and inspire anyone who could see the piece, rather than just a client who could just afford it in their home.
But the only way to efficiently paint big was using spray paint, so my medium list evolved again into the 'final form' to include spray paint, and I started to bring art and music together by curating themed "Graffiti Parties" around the city: from staple venues such as The End to Breweries on the River to staple and DIY Venues on the East side like Growhouse to underground 5000 square foot warehouses downtown (IYKYK), where I would have Street Artists painting outside the building or on built walls.
At the same time, I would book DJs, bands, even stand-up comics, as well as live canvas painters to perform inside, all while having local vendors lined around the perimeter selling goods, as well as aerial acrobats, fire spinners, and even magicians in the mix. It was a beautiful way of bringing musicians and artisans from all walks of our community together, as well as graffiti artists from feuding crews that would never normally paint alongside each other.
My Graffiti Parties became the "go-to" events of underground tastemakers and fine art collectors alike in Nashville, carving a distinctive presence on the scene, literally creating an art movement that successfully merged the two worlds in which I live: today's urban landscape and top-tier music entertainment.
As the word spread of my Graffiti parties, so did the attendance and excitement; and, before long, it became a staple institution of the Nashville arts and counter-culture scene, with everyone wanting to see what would be created next. I began to receive national attention from local businesses, restaurants, private art collectors, concert promoters as well as other music venues and art directors of major festivals.
Now, my murals can be seen across the nation, but more near and dear in our city from the Rock Block in West Nashville, to the giant Bob Marley (the first and largest mural of a POC) in Midtown, to Love and Exile and staple music venues in East Nashville, and has even been featured on NASHVILLE network television series, as well as HGTV's Reno My Rental.
I went from doing renegade street art pieces on saran wrap in the woods as hippy traps at festivals I loved and live painting for local parties in the scene like "The Happenings," to being invited to do official commissioned art installations for businesses and private residences as well as live murals around the nation for major and local festivals like Hulaween, Paint Memphis, Double Decker Arts Festival and Sound Haven.
It's been a blessing to be an integral part of merging the Art and Music scene over this last decade in Nashville, to help bring our community together and actively bolster Street Art to lift the community and bring joy to areas that would otherwise be mundane.
Alright, so let's dig a little deeper into the story – has it been an easy path overall, and if not, what were the challenges you've had to overcome?
Growing up in Alabama was my first struggle. Being half Egyptian and half German, I was constantly reminded by my German mother that, "you're not from here," even though I was born and raised there.
I became the only person in my family with a southern drawl, this led to an important identity crisis at a very young age, instilling a spirit of existentialism and duality in me that permeated into my art. I never felt a strong cultural connection to southern recreational pillars like hunting or mudding, and there was not much encouragement for creating art from peers growing up.
In fact, art was usually encountered negatively, almost like I was being too childlike, daydreaming or living in a fairy world by drawing all day. When I moved to Tuscaloosa in west Alabama to go to UA, I was able to break away from the nuance that creatives were useless, but began to notice at the same time that it was a cannibalistic society for creatives.
Artists rarely make it out of Alabama (comparatively), whether musicians or visual artists, so once an artist from Tuscaloosa was on the rise, they did not tend to support other artists, because they wanted to be THE artist from there, and it seemed they were worried they would lose whatever traction and respect they had earned through grit.
Thankfully, I was invited to an Art Collective in college called Maubilans, started by veteran-turned-artist Cory Patton, which helped me realize there were actually artists that supported artists.
But , I realized the only way for me to grow as an artist was to move, so I decided to move to Nashville with a group of musicians, because out of the other cities I was considering moving to, (Denver, San Francisco, Austin) Nashville was the only city I mentioned that everybody ALWAYS had good things to say about.
So, I said I'd give Nashville 2-4 years… Again, I was hesitant about the whole southern creatives not supporting creatives– but to my great surprise, after moving here, I've never witnessed a more supportive community of creatives supporting creatives, than in Nashville.
I've traveled a lot for work, from the west coast to the east coast and all in between, and other than maybe Austin as a close second, there's no other city full of ambitious folks where creatives enthusiastically support other creatives as much as they do here in Nashville, which I love.
I would say the second biggest obstacle was learning to paint with spray paint. I was versed in the brush, but when I started asking graffiti artists technical questions, I always get the same response "You just gotta get out there and do it." So, I did, enough to learn how to paint under pressure, and practice working can control.
I moved on to building walls in my friend's backyard to practice giant portraiture, since I needed the time to focus on it and I didn't really want my criminal record to suffer for the sake of art. Now, everything I paint is commissioned and legal, but every once in a while, I catch a run-down spot that could use some life, but I call it aesthetic vandalism.
Nine years later, I call Nashville home and would never think about living anywhere else (Full time, at least) Because of this community, I've been able to meet some of my favorite artists and have them not only share, but give me positive feedback on the murals I made of them; like Leon Bridges, Kacey Musgraves, Isaac Hayes (by his son Isaac Hayes III), Mavis Staples, and Mimi Choi.
I've been invited to paint live for events that feature some of my favorite artists like The Revivalists, Trombone Shorty, Victor Wooten, Peter Keys of Lynyrd Skynyrd, Dirt Monkey, Kenny Olson, RZA, Sam Bush, ATLiens, Rusko, and Maggie Rose. I've been honored to collaborate with other artists like Rolling Stone\Instrument Head Photographer Michael Weintrob, and met a ton of talented individuals through him to collaborate with ) .
By no means have I made it, but if I didn't have the friends and community here that supported me, I would be nowhere near where I am nearly a decade later… I know I've named a lot of names, but that's because I believe your community is everything, and I'm blessed to be busy and surrounded by people who inspire me.
Can you tell our readers more about what you do and what you think sets you apart from others?
I specialize in freehand, spray-painted murals; specifically giant, surrealist portraiture, usually sporting a bright, neon-colored abstract pattern I call a 'Color Burst' that I incorporate in most pieces.
Most of my murals are RGB-UV reactive; meaning they look one way during the day, but at night, with a set of RGB\UV lights on them, the whole mural will actively morph and 'breathe' to create an interactive experience. This provides for a great duality for people witnessing me live painting murals for events, and visual transitions between day and night for set installations at festivals\businesses\private residences.
Music is so dear to my artistic style, so when I paint a mural of a specific musician, I listen to their discography while I'm painting them, and weave their lyrics into the background of the piece. This way, the lyrics can be more subtle, hiding in the daytime and appearing obvious at night, glowing under UV\RGB reactive lights.
Have you learned any interesting or important lessons due to the Covid-19 Crisis?
In short, when things don't go as planned, don't be afraid to take a risk and try something you've always wanted.
Before the pandemic, I was actively still doing festival production, artist mgmt, and throwing shows while always doing art on the side. When COVID started, essentially shutting down the live entertainment industry, my financial stability, like so many others, was in jeopardy. I wasn't sure what the future had in store, or if live music and events would ever even come back.
I had to step away from production and artist mgmt as the live entertainment was put on an indefinite pause. I always had one foot in the door of the music industry and one in the art world, but as the music industry ceased to exist, I immersed myself into my art world and shifted all of my energy into my other passion; murals.
I grew up with a small family: My Mom, Grandad, and older brother, and a few years before the pandemic, my Mom and Grandad both passed away the same year–within two months of each other.
So, when Covid-19 rolled around, I was already hyper-aware that life is short, and you need to do what makes you happy, what you believe in or regret. I took the forced time of isolation and decided to focus 100% of my time and energy on murals (since there was literally no other option at the time that I thought would truly make me happy).
When the pandemic began, I saw it as possibly the last opportunity to make Art an actual career, which seemed like the most impractical solution a sane person should take in an unknown crisis like that. I took that time and isolation that COVID forced to fuel the growth of murals and projects I had always wanted to execute, but didn't have the time to focus on.
I began to go full-time in my art career, harder than ever to make it the primary source of my income– and it took off.
I wasn't a stranger to wearing a respirator, and traveling to different cities, so working by myself 90% of the time on a lift or scaffolding doing what I loved gave me plenty of time to truly appreciate the opportunity I had, the people that supported me, the talent I had been blessed with, and the lessons my family had taught me about resilience, integrity, and legacy.
If anything, the COVID crisis taught me that when forced into isolation or restricted from what you would normally do, break out and try something new, and use that time like alchemy to create something you normally wouldn't have the space for–it may work, it may not, but at least if it doesn't, you won't have to live the rest of your life wondering
"What if I had tried that one thing…"
Pricing:
Contact Info: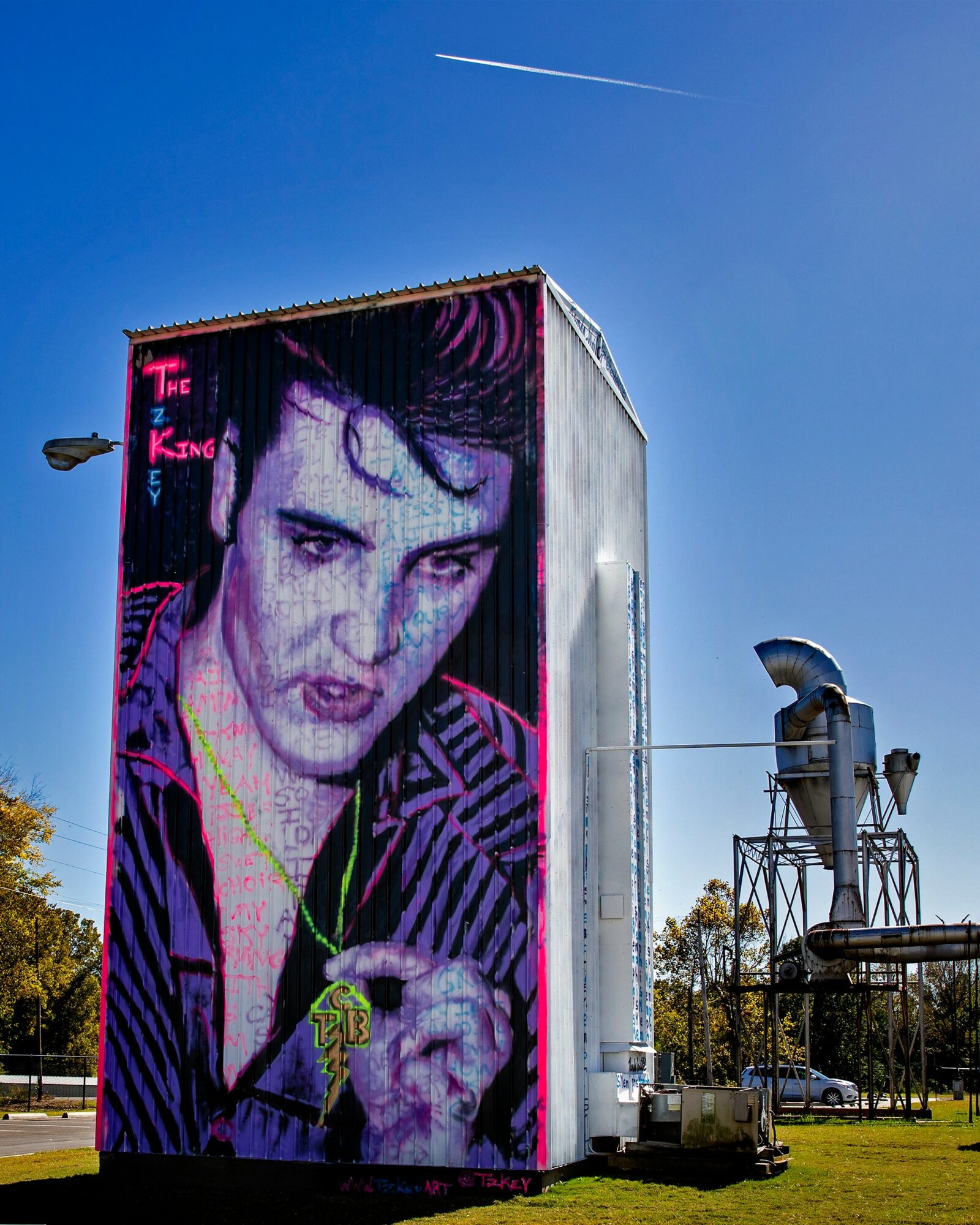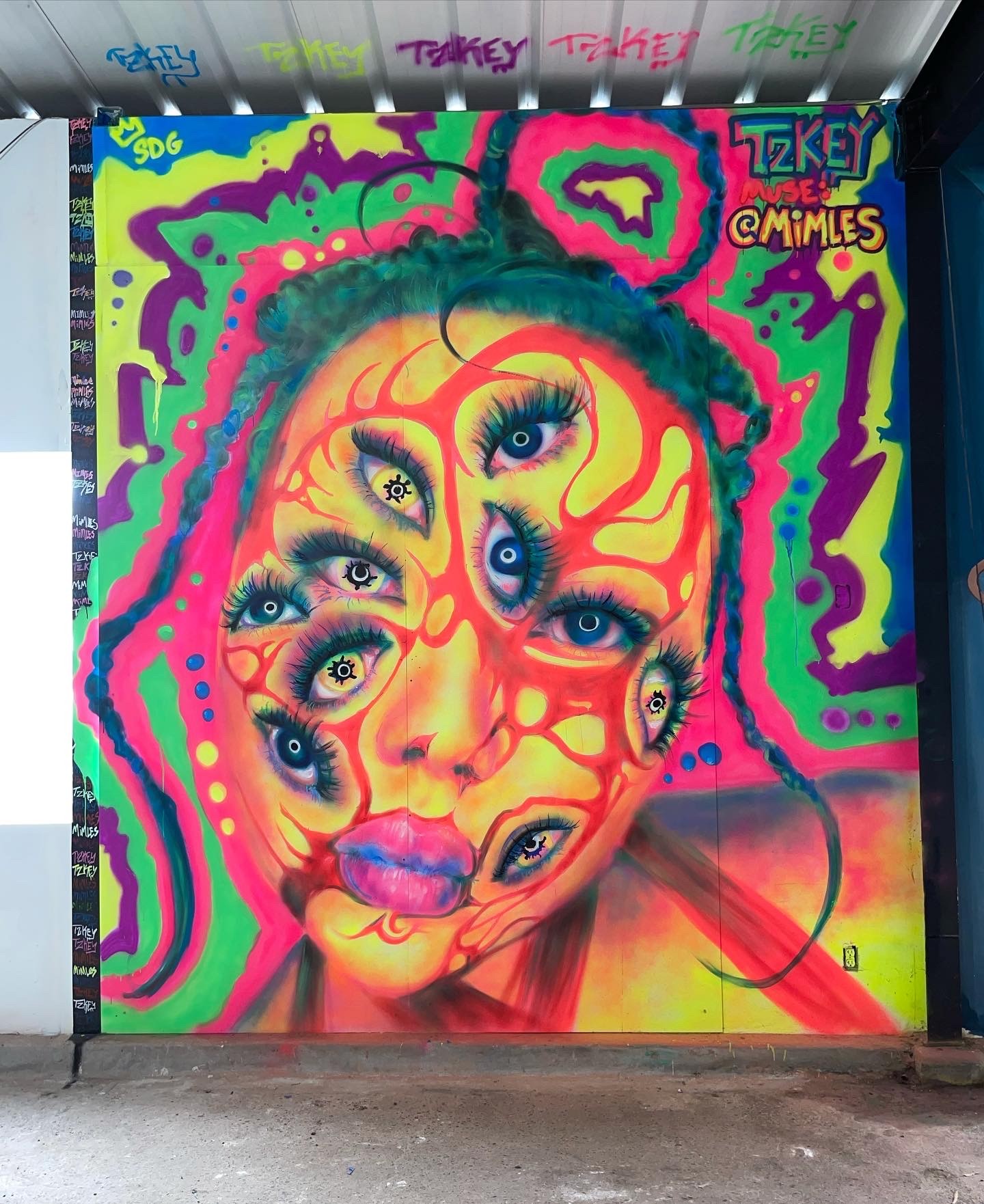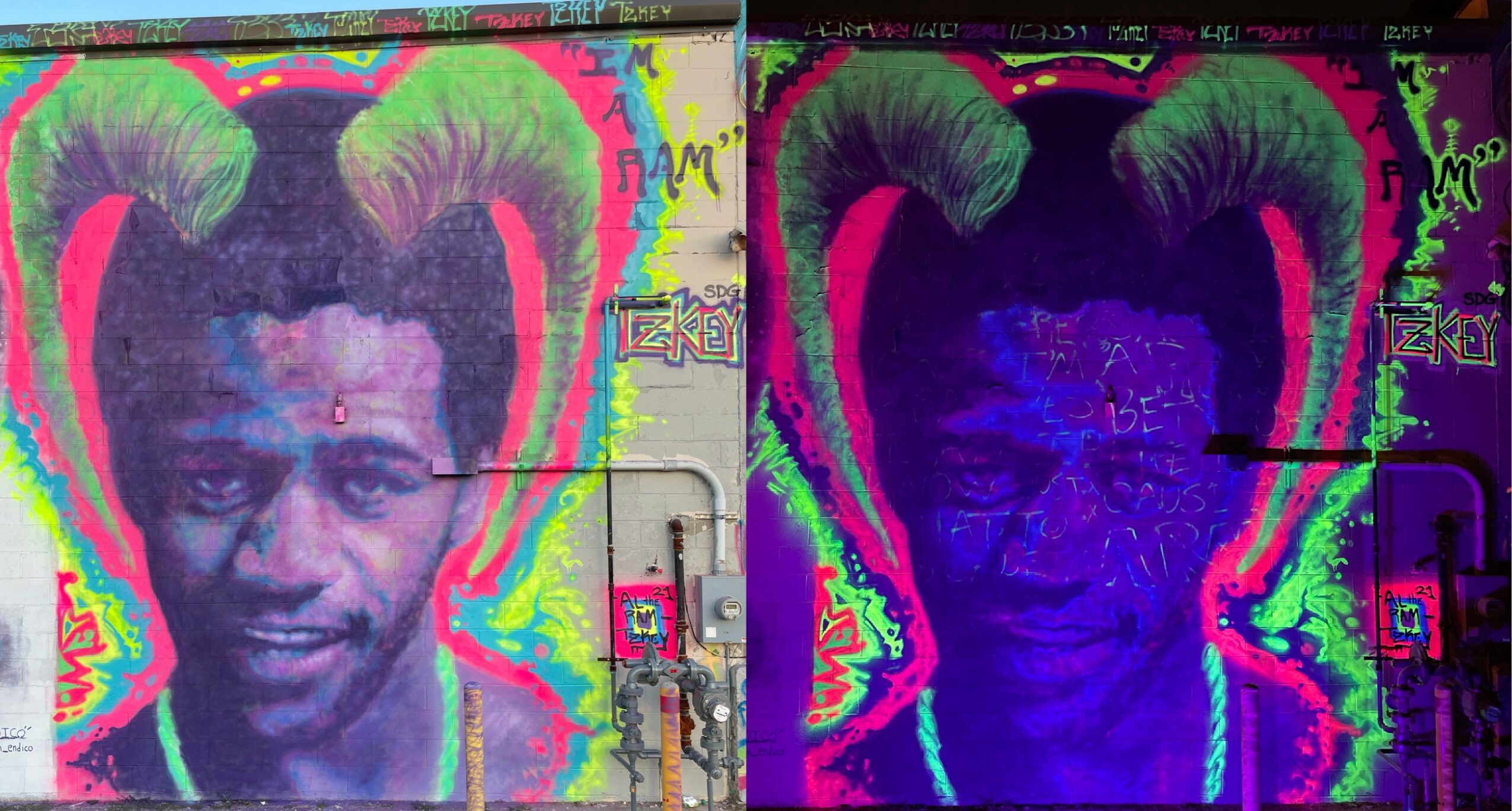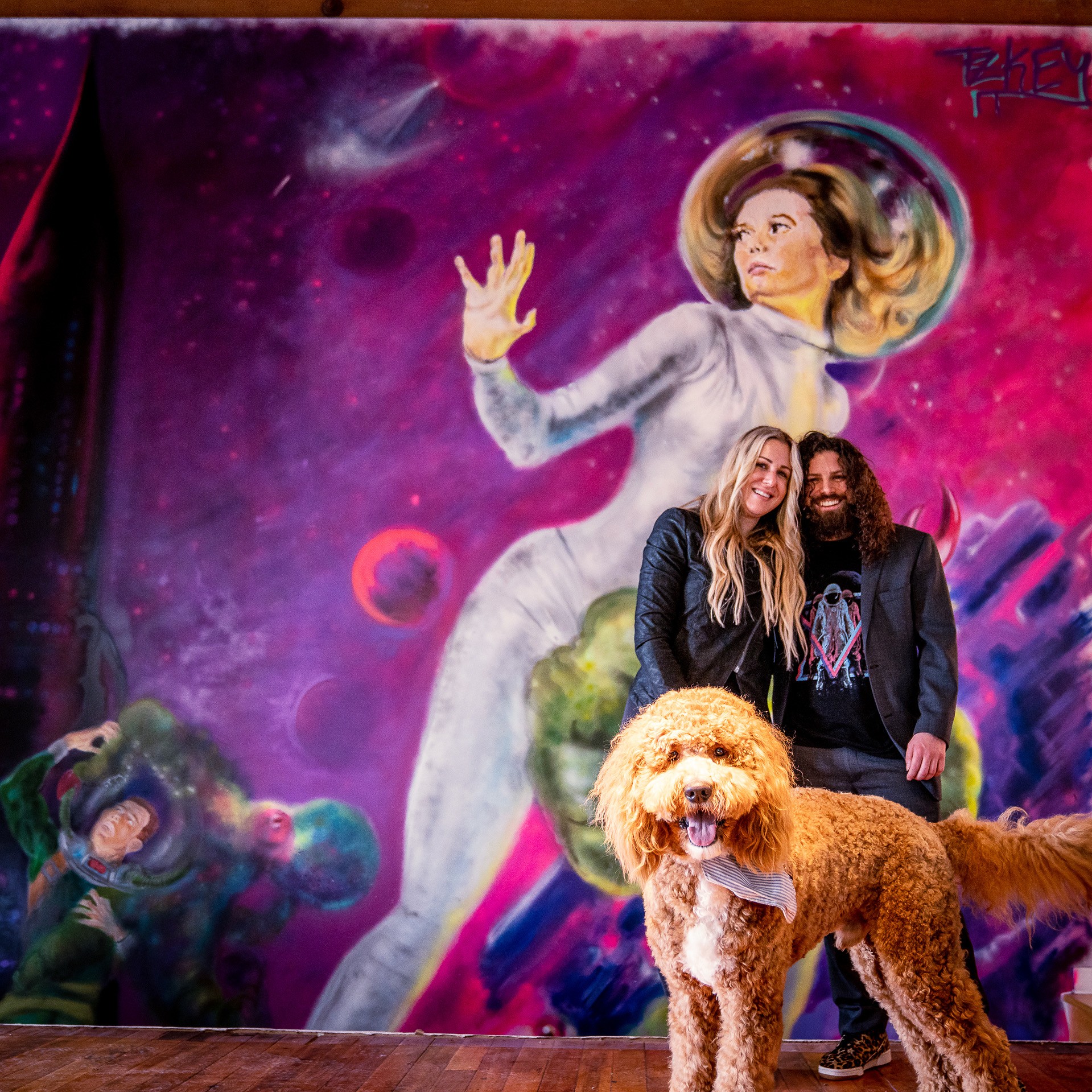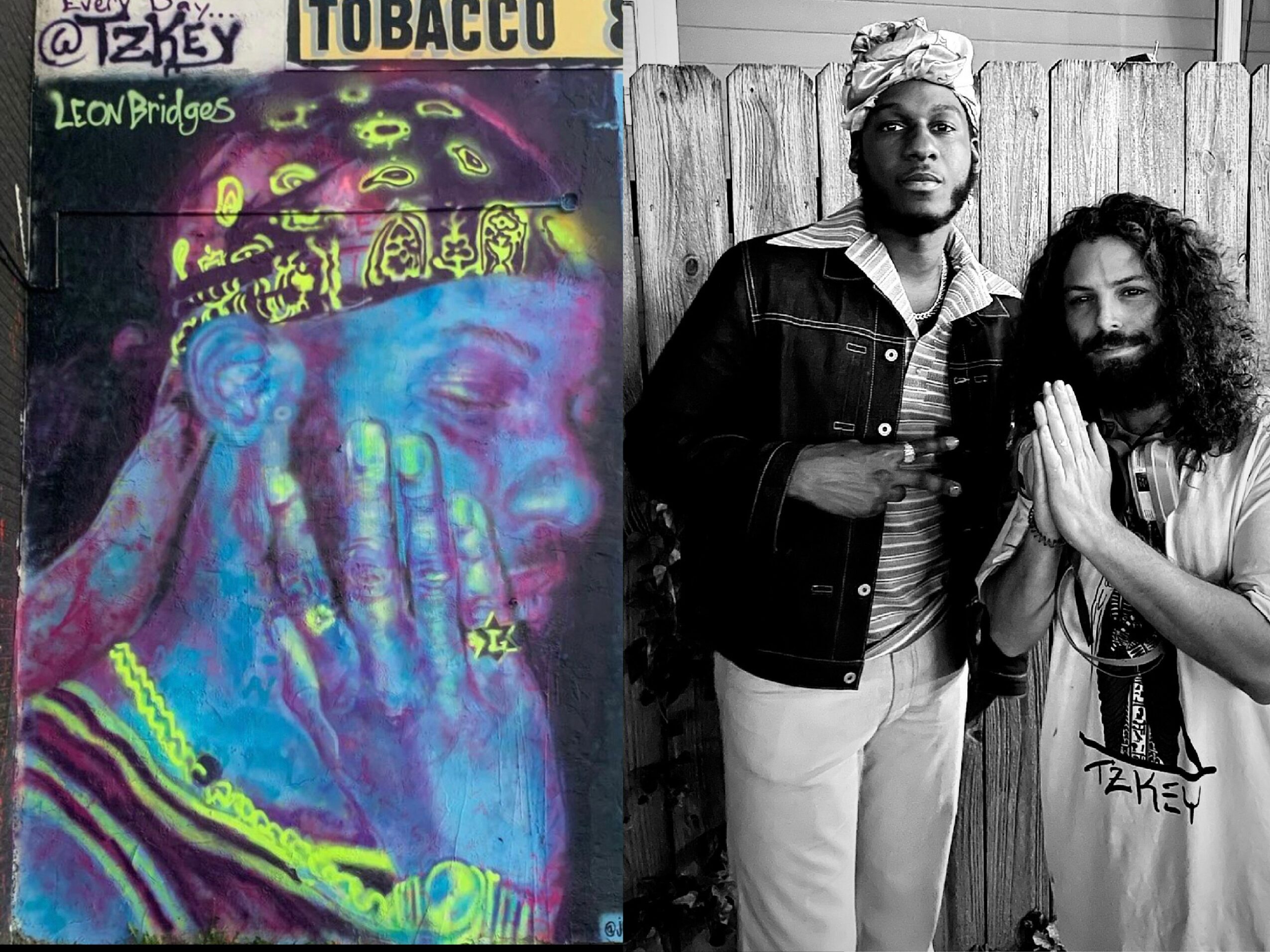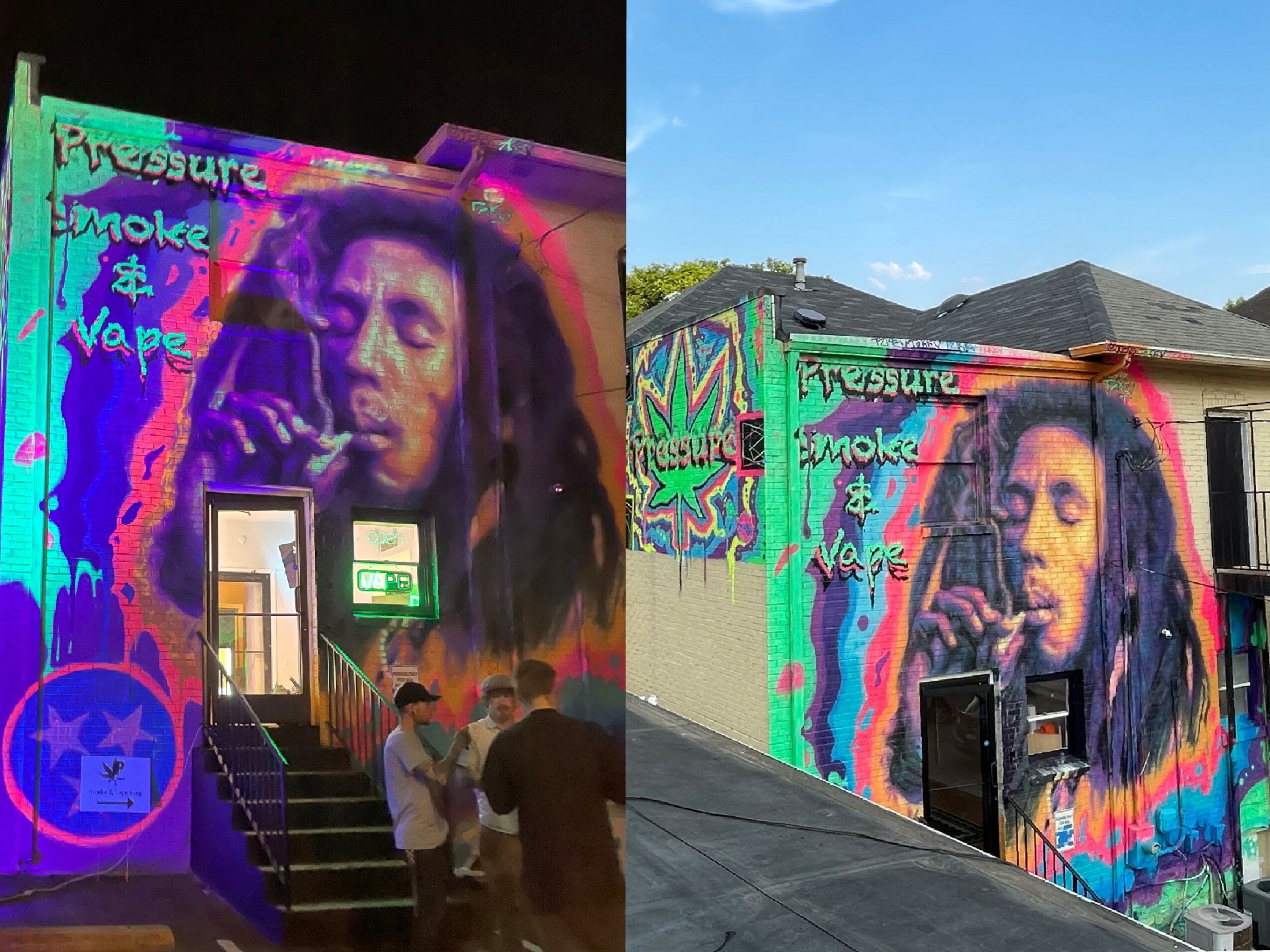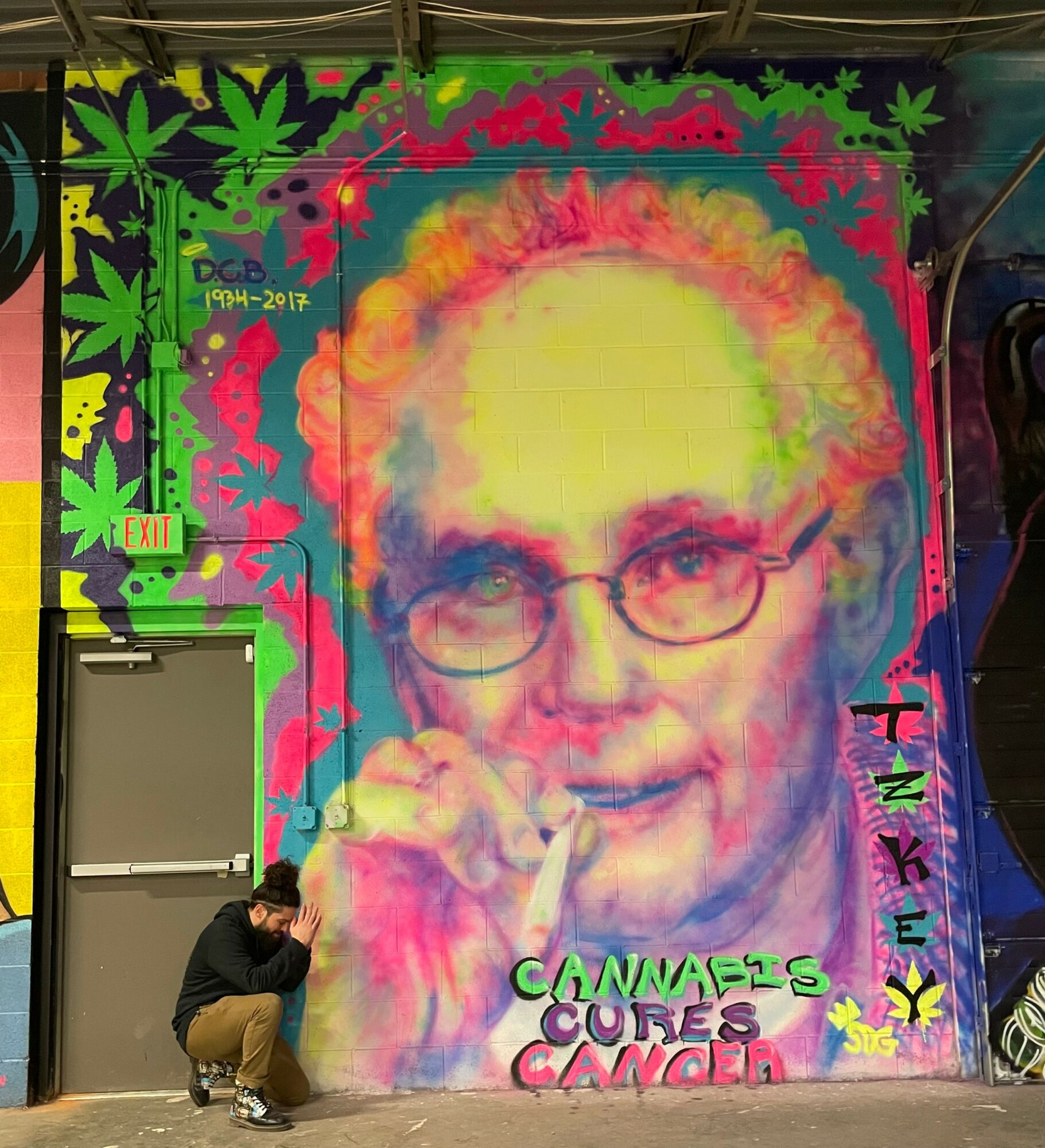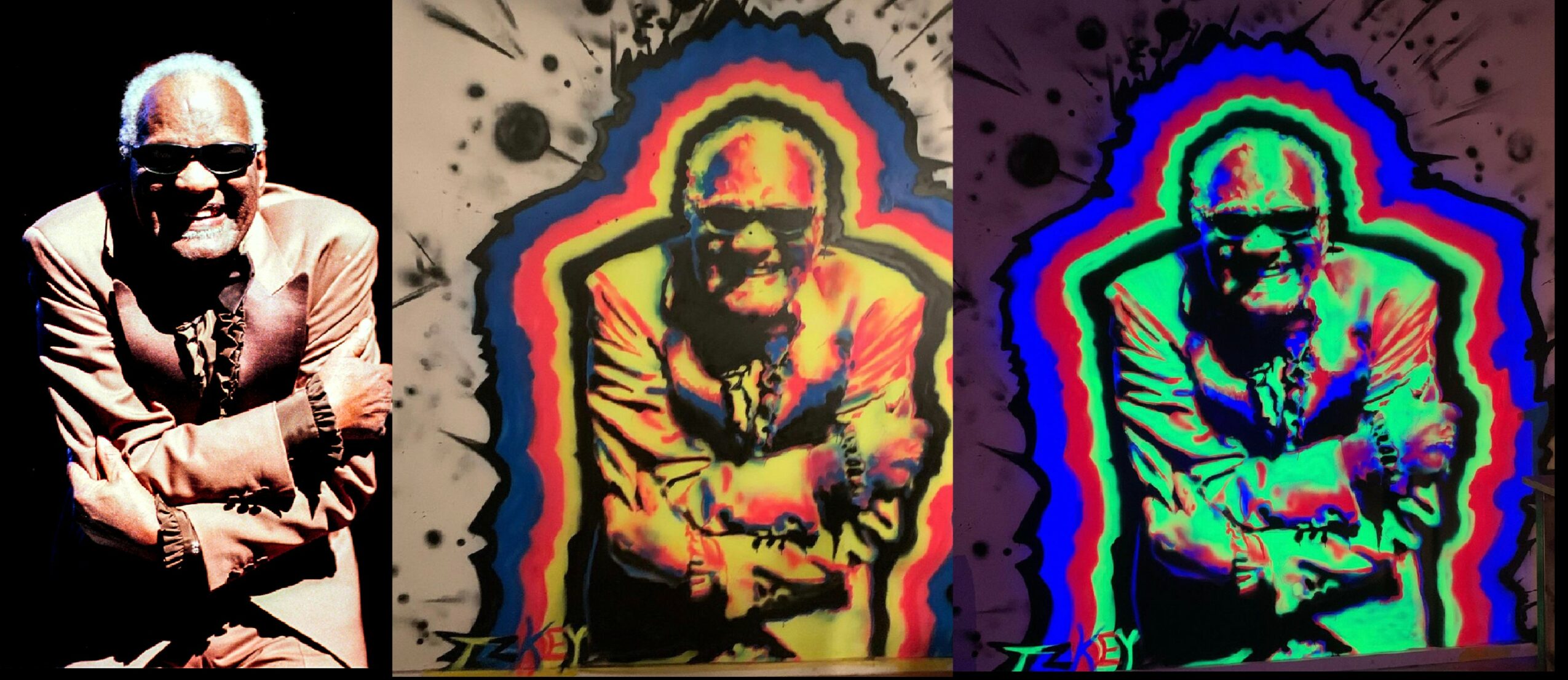 Image Credits
Leon Bridges + TZKEY + Leon Bridges Mural – Photo by Drew Miles @captaindizzy Elvis Mural – Photo by Mike Kerr @mikekerrmemphisphoto Mimles Mural – Photo by Edgar Olvera @edgarolvera_ Client Erin Woodward + Dags + Tzkey – Photo by Brandon Woodward @e.b.woodward Ray Charles TZKEY\Weintrob Collab Mural – Original photo by Michael Weintrob @michaelweintrob 'I'm a Ram' Al Green Mural – photo by Tyler Z Key @tzkey Bob Marley Midtown – photo by Tyler Z Key @tzkey "CCC" Cannabis Cures Cancer Mural – Photo by Aubrey Hedrick @aubreyhedrick
Suggest a Story:
 NashvilleVoyager is built on recommendations from the community; it's how we uncover hidden gems, so if you or someone you know deserves recognition please let us know 
here.