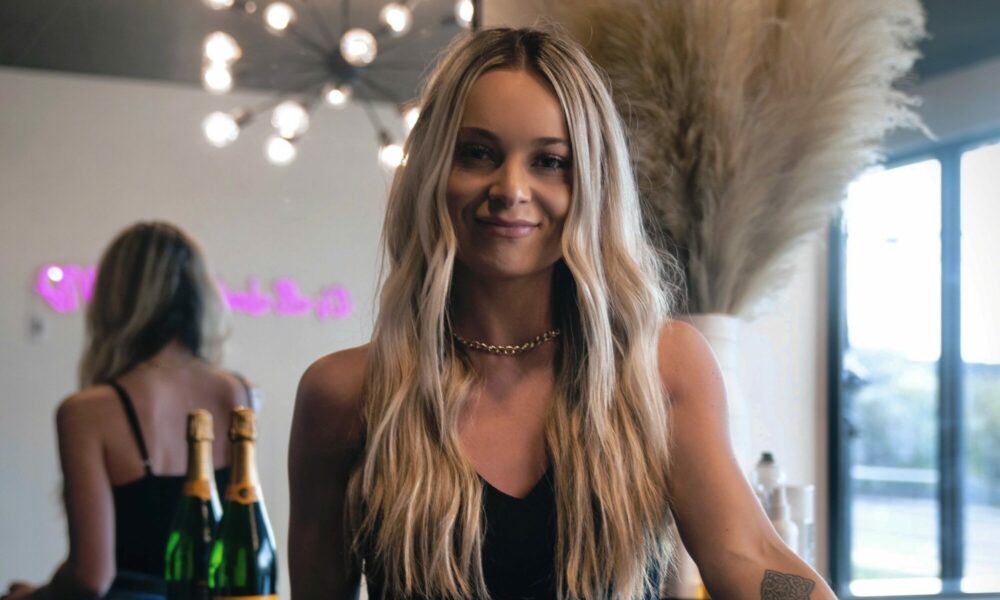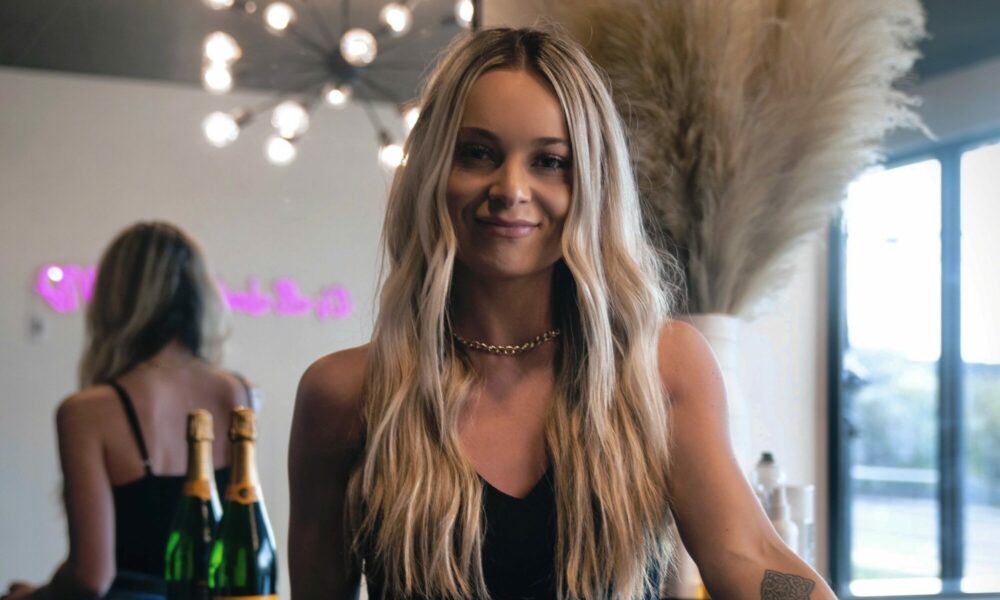 Today we'd like to introduce you to Kristine Hegarty.
Alright, thank you for sharing your story and insight with our readers. To kick things off, can you tell us how you got started?
My journey into the world of cosmetology started in 2015, when I was 20 years old and living in Florida.) I lived there with my family after moving from Boston, where I was born and raised. I am the 3rd of 4 children, and my parents have been together for almost 40 years. I entered into cosmetology, having a strong passion and interest in makeup at the time. I had always enjoyed doing my makeup and makeup for others as well. I knew that whatever my career would be, I would make a living out of doing something that I loved and was passionate about.
During that time, I had friends who had attended hair school and loved it, so it became a possibility in my mind. I was never the friend playing with other girls' hair or the girl who knew she wanted to be a hairstylist from a young age (I hadn't attempted to braid until I was about 21 years old). Instead, I was an athlete and a gymnast since childhood. However, I have always enjoyed getting my hair colored and thought that the art of doing it was fascinating. I'm a "color" person, and I think that's where my pleasure in doing makeup lies. There are so many different looks and things that you can do with makeup and hair color.
I decided to go to hair school in 2015 and honestly had no idea if I would like it or not, and I certainly wasn't confident that I would be any good. I decided that if I was going to do makeup for a living, it might be even more beneficial to offer hair services as well. After just a few months into school, I had found my calling. It wasn't and still isn't just about doing somebody's hair color or haircut and getting paid for it. It is so much more! As I started taking my first few clients, I realized that I was making a difference for people by helping to boost their self-confidence, among other things. Once I realized the positive impact and effect that my work could have on how people feel about themselves, even on their worst days or during their worst times, I couldn't envision myself doing anything else. So, taking the risk and going to hair school and having no idea if it would be "for me" was undoubtedly the best decision I have ever made.
While in school, I started assisting at a small salon on Marco Island, Florida, where I was living. I was an assistant for about two and a half years. I slowly started to take on clients, build my business, and assist other stylists. I knew I wanted to leave Florida and go somewhere with a large city and a bit more excitement. At that time, Nashville was becoming super popular, and it sounded like it would be an ideal place to do hair. I had dreamt of doing hair and makeup within the entertainment industry for a long time, so I thought, "what better place than Nashville?" particularly since it was starting to develop and grow.
Fast forward to 2017. I was itching to leave Florida and decided it was time to challenge myself personally and professionally. After visiting Nashville just once, I knew it would be my next home. Just one month after visiting, I moved here and started my journey. My story is that I didn't move to Nashville and become a stylist right away. I realized that moving to a different state and starting from scratch would be a long process. I also realized that I had to be patient. For me to qualify to take the Tennessee cosmetology state board exam, I needed 300 additional hours of schooling. While I knew this before moving to Nashville, it felt like a huge setback because I had already been a stylist behind the chair in Florida and built a steady clientele. I decided to overcome all obstacles and do whatever it took to become a licensed stylist in Tennessee. I was going to do it regardless of anything else. So, with three long extra months of school, working 2 jobs, and many hours of researching salons, I found myself with a job at one of the top salons in Nashville. Again, I found myself as a full-time assistant, making me feel like I was going backward for ten months. But, I was determined. I realized that without knowing anyone here and trying to build a clientele in a city like Nashville from scratch would be extremely difficult and require much work. I was not afraid of the work, so I was determined to learn as much as possible before building my business in an unfamiliar city.
The years I've spent assisting in salons and learning alongside stylists I have trained under have molded me into the confident stylist I am today. I believe strongly that with determination, humility, a hard work ethic, and patience, you can achieve any goal you have set for yourself, no matter what. It was important for me to take risks and get out of my comfort zone, regardless of how scary it seemed at the time. I've been doing hair in Nashville for four and a half years. During this time, I have built a very large clientele. I have made a name for myself while developing and maintaining meaningful relationships with clients and fellow stylists.
This past April, I left my salon of four years to pursue something I've always dreamt of but never thought possible. I started my own business! I now work as an independent stylist in the Gulch in Nashville. It has been such an amazing and self-satisfying journey! I currently work alongside a friend of mine, Alynna Tilley. She is someone whom I've worked with and assisted while beginning my career in Nashville. She opened Blend Salon in February this year and invited me to join her. It is currently the only hair salon in the Gulch area.
At this time, I continue to accept new clients, and I am always more than excited to meet the new people Nashville brings to me every single day. As I said earlier and what I share with all of my clients. Being a hairstylist isn't just a "job." It is a passion, a calling. I wake up every day and look forward to hanging out with amazing people, listening to their stories and all the crazy things happening in their lives, from highs to lows. I'm there.
On top of that, I get to make them look and feel amazing. I feel truly blessed, and I am incredibly grateful for being able to do what I do and maintain the relationships I have with all my wonderful clients. I love being their stylist. It's crazy to think I would never have met them if I hadn't leaped. It has been an incredible journey. Everyone wants to feel good about themselves, and everyone in Nashville wants to look good. So why not do that for a living? Because it's pretty damn fun, and I love it!
Can you talk to us about the challenges and lessons you've learned along the way? Would you say it's been easy or smooth in retrospect?
Of course, with anything in life, there were ups and downs. I would say the biggest struggle and obstacle was returning to school when moving to Tennessee. Knowing that I had to get re-certified entirely in a new place and that I would be starting at the very bottom, not making much money, it was hard to be patient. It felt like I was moving backward, and it was tough to see the light at the end of the tunnel.
Appreciate you sharing that. What else should we know about what you do?
My specialty and passion are certainly hair coloring. For me, what comes along with being a hairstylist is being a bit of a perfectionist. I did not realize I had OCD tendencies until I started doing hair which only means getting it exactly right. My specialty is dimensional color, which gives clients a more realistic and natural look.
It is a priority for me to consult with each client every time they come to see me personally. I need to know about their lifestyle. I want to know how often they plan to go in, how they like to style their hair, what products they use, what colors and tones they love, and which ones they don't. I realize that people want their color to last as long as possible without needing to come back to the salon too frequently.
With that being said, it is my personal goal to fit the needs and desires of my clients and for my service to make sense and align with how they live. Many of my clients are blondes, and I love how many different "types" of blondes I get to provide service to. There are many, many different tones and styles of light hair. Again, I'm always keeping in mind their lifestyle and whether they can keep up a certain look. For every blonde I do, I make certain there isn't a prominent grow-out line and that it looks natural and soft up until they are due for their next appointment. I am always excited about bringing back dimensional color, and I like to emphasize that color doesn't have to be high maintenance. I am a true believer that it's fun to change up your look once in a while. I am also able to help people realize that coloring hair doesn't have to require much upkeep or feel like a burden.
It may or may not set me apart from others in my industry, but I can say that my clients know me as someone who is very genuine and "down to earth." I make it a priority for new and all clients to come into the salon feeling, at the very least, comfortable. I know it's common today for women to feel anxious or intimidated when trying new places, particularly a hair salon. I have experienced those feelings myself. It is my personal goal to ensure that no one who comes to see me ever feels that way. I need to make every appointment with my client a positive, unique, fun, and memorable experience. I want it to be where you get your hair done and feel safe, that you can trust, and that it's a space where you can disconnect from the world while treating yourself. It is my personal goal and desire that everyone who sits in my chair feels special, unique, and confident. Making people look amazing and feel it on the inside makes me genuinely happy, and that's why I'm proud and grateful that I get to do what I do for a living and others. It is a passion!
We love surprises, fun facts, and incredible stories. Is there something you can share that might surprise us?
Many of my clients or anybody who knows me now would be surprised to see that I grew up shy. I was so quiet as a kid and even in my teenage years. If someone told younger me that I would be a hairstylist and had to talk to people all day every day and not be awkward, I would have said there's no way. Today, one of the reasons I enjoy my job so much is the people I get to meet and talk with daily. I genuinely enjoy getting to know the people sitting in my chair and want them to feel more comfortable with me. It's funny when I look back on my childhood into my high school years and remember how quiet and reserved I was. I think a lot of people would be surprised to hear that. That's how I know I'm comfortable and happy in what I do; I'm able to be myself.
Contact Info:
Image Credits
Cody Villalobos
Suggest a Story:
 NashvilleVoyager is built on recommendations from the community; it's how we uncover hidden gems, so if you or someone you know deserves recognition please let us know 
here.