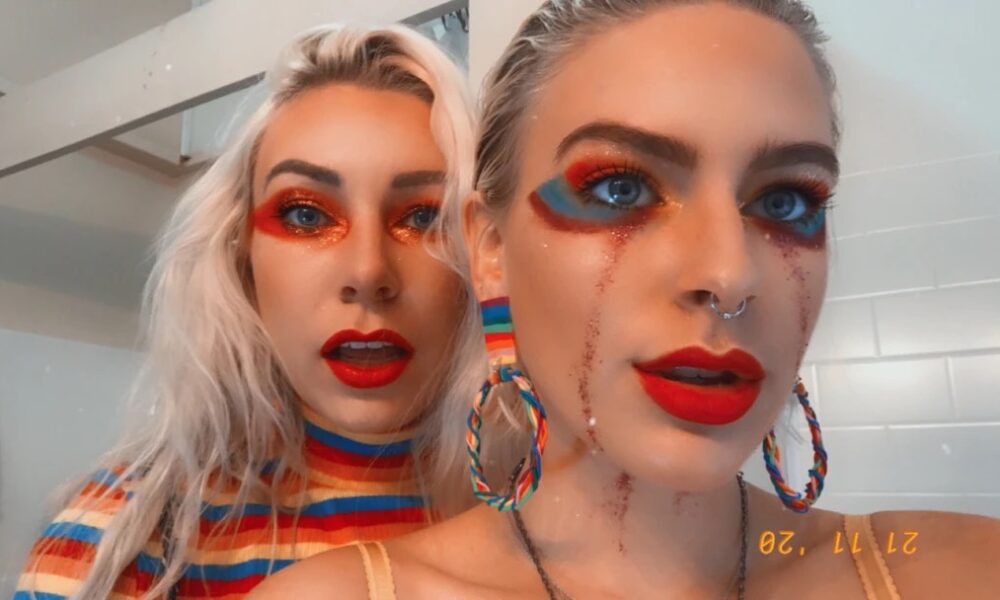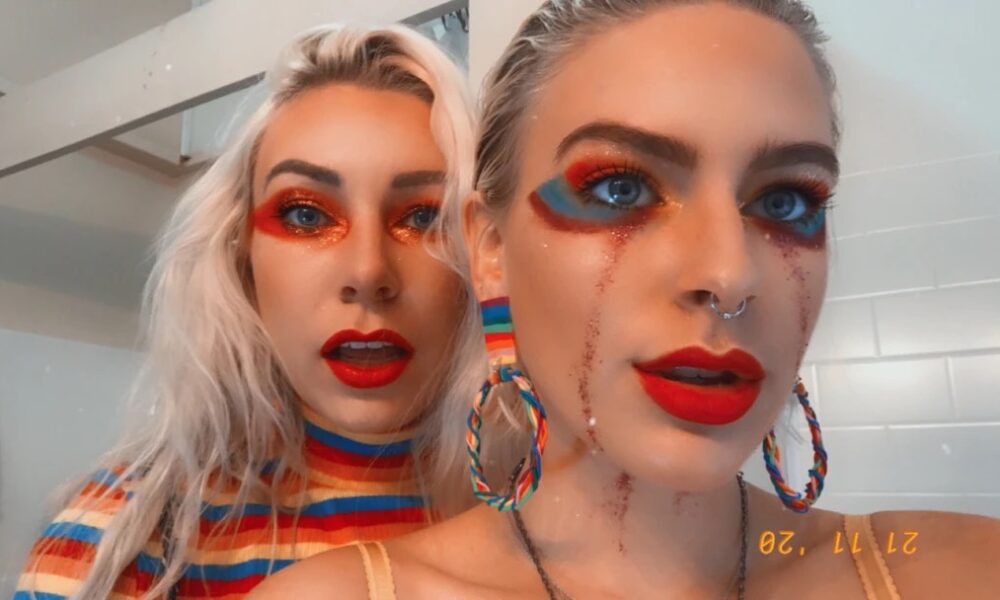 Today we'd like to introduce you to Skye & Kinley Lingenfelter.
Hi Skye & Kinley, thanks for sharing your story with us. To start, maybe you can tell our readers some of your backstory.
Kinley and I (Skye) are sisters, born seven years apart. Kinley is a 21-year-old, nationally awarded fashion designer from Philadelphia, PA., and I am a 28-year-old attorney from Nashville, TN.
Kinley and I have always had very eclectic senses of style. We regularly dress quite a bit outside the box and growing up in a fairly conservative small town, we always felt a bit misunderstood. After high school, we both went to college and eventually found ourselves in bigger cities where our fashion choices were much more accepted. Nashville became my home and Philadelphia became Kinley's. Our individual styles continued to evolve and become more expressive over the years, but as we entered our twenties we discovered that it became increasingly difficult to find clothing that looked "adult" but wasn't plain, boring, or downright unflattering. Kinley's status as a designer gave her the ability to make her own unique garments if she couldn't find what she was looking for in-store, while I resorted to eBay or Poshmark deep-dives and thrift store shopping.
In March of last year, during the pandemic, Kinley's school shut down and sent all the students home. I was living in a neighborhood outside of Indianapolis, IN, while I wrapped up my final year of law school, so Kinley decided to move in with me until things settled down. During the summer Kinley and I were both working professional jobs with business formal wardrobe requirements. We decided to combine our closets to share resources, but we still struggled to put together enough unique outfits to cover 5-day work weeks. On days where our outfits weren't as spectacular as we wanted, we would add pairs of flashy statement earrings from my decade-old collection to add some extra umph. I've always loved giant statement earrings because even when your outfit is "normal" looking, outlandish earrings have a way of taking it to the next level; Kinley soon adopted this view, and before long she was on the hunt for her own statement earrings. Unaware of how long it had taken me to collect the 15-20 pairs that I owned, she had little luck procuring her own stash before it was time for her to move back to Philadelphia, where my closet far out of her reach. One morning as she was leaving for work, she came into my living room venting about how hard it was to find "outlandish enough" statement earrings in retail stores (especially ones that were sustainably made), and that was when she suggested, "we could just make them ourselves. It can't be that hard."
Those words were the catalyst to forming Smells Like Crime. We figured we weren't the only ones struggling to find unique earrings, so we began scheming; within a few months, we had acquired supplies, begin creating, and stumbled upon an inside joke that became the name of our brand. On an early morning in October 2020, Kinley and I sat on the roof of her house in Philly with coffee mugs in hand and an iPad in Kinley's lap and we brainstormed a logo. Kinley drew it right there on the roof and we launched later that week on Instagram. By December, we'd bought a domain, launched a website, and expanded into clothing! We started ringing in serious sales, within a few months we broke even for the first time. By spring, we had started amassing a following on TikTok, which is now approaching 25k, and this summer we opened a business bank account, registered as an LLC, formally named "Smells Like Crime, Co.," and got our very first intern! This month we quit our jobs to run the company full time. A year ago, we couldn't have anticipated being here today, but we are incredibly grateful for the love of so many small-business supporters – they're the ones who have made it all possible. We're so excited to see what's next!
I'm sure you wouldn't say it's been obstacle free, but so far would you say the journey have been a fairly smooth road?
We've had a pretty smooth road when it comes to creative flow and making sales, but it was incredibly challenging managing our obligations and still giving enough time to our business to get it off the ground.
We started Smells Like Crime while Kinley was working full time and I was neck-deep in my final semester of law school (17 credit hours to graduate early). I would attend classes, complete assignments, and study all day long, and Kinley would work full 40-50 hour weeks. We would finish our regular workdays and then we would sit down for a second work-day, creating pieces and listings until the wee hours of the morning. I remember some nights in December where I was awake packing orders until 2 or 3am.
In January and February Kinley began working even more hours and I began studying for the Bar Exam. Our days got longer; sometimes cresting 16 or 18 hours. I traveled back and forth to Philadelphia for months, and together we designed, created, photographed, modeled, marketed, sold, packaged, shipped, and managed social media until we could fulfill our obligations (graduate, pass the Bar Exam and leave our jobs). We were incredibly committed even through the frustration and exhaustion. Our social lives were virtually nonexistent and there were even some tears while we struggled to make it all happen. In all honesty, there were days that we just couldn't juggle it all and a couple of times, we found ourselves in a puddle on the couch taking a mental health break.
This month has been our first month completely settled in and working full-time for ourselves. There's so much more time to get everything done, and our intern helps us a lot too. Starting our own business has been rewarding beyond anything we could have hoped for and totally worth it, but the journey was certainly tough.
Alright, so let's switch gears a bit and talk business. What should we know about your work?
We are probably most known for two things: our outlandish/unorthodox clothing and earring designs (specifically our suits and "professional" wear) and the fact that our products are made from 90-95% recycled materials.
We hand design and create most of our pieces from the ground up. Kinley literally drapes patterns on mannequins or models as she dreams them up in her brain; these patterns are not available anywhere else, and it's what makes her garments so unique. We also create "upcycled" clothing items by painting, altering, and/or reimagining thrifted garments into incredibly unique statement pieces. Some of our favorite items we've made are thrifted jackets or boots that we've hand-painted. These take quite a bit of time and we have to charge more to compensate ourselves for the time that goes in, but our customers love them because they're guaranteed a signature jacket or pair of boots with a head-turning piece of artwork. And bonus points: no one else in the world will have one like it.
Another thing that sets our work apart is that all of the clothing and roughly 50% of the earrings we create are made from recycled materials, sourced locally at thrift stores in Philadelphia and at Turnip Green Creative Reuse in Nashville, TN. Our decision to thrift or procure recycled materials from others' surplus makes our business stand out, not only because everything is sustainably made from materials that don't deplete our planet of resources, but because our pieces are one of a kind! Using recycled materials to bring our designs to life means we only have a finite supply of each thing we make. In fact, as we currently operate, all of our garments are 100% unique and not to be repeated, and a great number of our earrings are made in limited supplies that are not restocked once they sell out.
Reuse and repurposing materials into something new isn't just business for us – it's even a part of our personal lives! In addition to creating pieces from recycled or thrifted materials, we also save all of our OWN scraps for big one-off projects or for modern art pieces that we like to create in our free time.
We love surprises, fun facts and unexpected stories. Is there something you can share that might surprise us?
Kinley and I have three brothers and six sisters! Ten of us are biologically related (we grew up together and came from the same two parents), and one of us is a more recent addition. We are all incredibly close, and we have very versatile interests. Our parents produced everything. Among the oldest six of us, we've had collegiate athletes (two golfers and a basketball player), a division 1 coach, several artists, multiple musicians, a lawyer, a doctor, an architect, an Arabic-fluent humanitarian, a fashion designer, and two authors. One of the author siblings is only 17, and she wrote a novel on Watt Pad that has over 300k readers. It's wild and we're not sure how our parents have stayed sane. The rest of the kids' careers are TBD but we're pretty proud regardless.
Pricing:
Earrings range from $20-$75
Upcycled garments range from $35-$250
Original designs range from $50-$300
Custom work starts at $40 and can go as high as the customer wants!
Rings range from $15-$40
Contact Info:
Image Credits
Skye & Kinley Lingenfelter
Suggest a Story:
 NashvilleVoyager is built on recommendations from the community; it's how we uncover hidden gems, so if you or someone you know deserves recognition please let us know 
here.